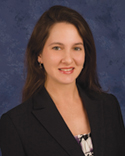 Lisa Hird Chung
Associate
Duane Morris LLP
750 B Street, Suite 2900
San Diego, CA 92101-4681
USA
Phone: +1 619 744 2272
Fax: +1 619 923 2498
Email: LChung@duanemorris.com

Lisa Hird Chung practices in the area of employment law and litigation. Ms. Chung has defended employers in single-plaintiff, representative and class-action lawsuits involving claims such as discrimination, wrongful termination, retaliation, harassment, wage and hour, and trade secret violations. Her trial experience includes representing employers in discrimination lawsuits and wage and hour cases involving claims of misclassification, unpaid overtime, and meal and rest break violations, for which she has also appeared before the California Labor Commissioner. She has also advised employers on labor law issues, including collective bargaining obligations. In addition, Ms. Chung has obtained dozens of workplace violence restraining orders for the protection of threatened employees.
Ms. Chung is a 2006 cum laude graduate of the University of Minnesota Law School, where she was executive editor of the Minnesota Journal of International Law, and a summa cum laude graduate of Arizona State University.
Areas of Practice
Employment Law and Litigation
Professional Activities
San Diego County Bar Association
Clifford J. Wallace Inn of Court
- Associate Member, 2008-2010
Louis M. Welsh Inn of Court
- Barrister, 2010-2012
Lawyers' Club of San Diego
Admissions
California
U.S. District Court for the Southern District of California
U.S. District Court for the Central District of California
U.S. District Court for the Eastern District of California
Supreme Court of California
Education
University of Minnesota Law School, J.D., cum laude, 2006
- Executive Editor, Minnesota Journal of International Law
Arizona State University, B.S., summa cum laude, 2002
Experience
Duane Morris LLP
- Associate, 2010-present
Paul, Plevin, Sullivan & Connaughton LLP
- Associate, 2006-2010
- Summer Associate, 2005
Hennepin County Public Defender's Office
- Law Clerk, 2004-2006
U.S. District Court for the District of Minnesota
- Judicial Extern to the Hon. John R. Tunheim, 2006
Civic and Charitable Activities
State Bar of California, Wiley W. Manuel Award for Pro Bono Legal Services, February 2012
San Diego Volunteer Lawyers Project
Children At Risk, San Diego County Bar Association
San Diego County High School Mock Trial Competition
- Coach, 2009-present
Partnerships With Industry
- Board of Directors and Marketing Committee, 2009-2011
Selected Publications
Author, "Supreme Court Holds That Pharmaceutical Sales Representatives Are Not Eligible for Overtime Under Federal Law," Duane Morris Alert, June 22, 2012
Author, "New California Employment Laws for the New Year," University Business, January 2012
Author, "Compliance Countdown to 2012 for California Employers," Duane Morris Alert, December 6, 2011
Author, "Prohibiting Genetic Discrimination In California," Law360, October 6, 2011
Author, "New California Law Prohibits Genetic Discrimination and Can Result in Significant Damages If Violated," Duane Morris Alert, September 23, 2011
Co-Author, "Brave New Cyberworld: The Employer's Legal Guide to the Interactive Internet," American Bar Association's The Labor Lawyer, Winter 2008; updated and reprinted in The Computer & Internet Lawyer, March 2010
Columnist, Bender's California Labor and Employment Bulletin, 2005-2010
Author, "Able Hands, Able Minds: How Offices Benefit By Hiring Developmentally Disabled Employees," Daily Journal, December 31, 2009
Author, "Free Trade in Human Gametes as a Solution to Procreative Tourism and the Unregulated Internet," Minnesota Journal of International Law, Winter 2005
Selected Speaking Engagements
"Employment Law Developments and Action Items for 2013," Duane Morris Breakfast Briefings, January 2013
"Employment Law for Managers," Practical Training for Financial Services Client, January 2013
"Harassment, Discrimination and Retaliation Training for Supervisors," August 2012
"Hot Topics in California Wage and Hour Law," Duane Morris Breakfast Briefings, March 2012
"California Leaves of Absence," DM Webinar Series, September 2011 and May 2012
"Big Brother Boss: Controlling Employees' Use of Technology On and Off the Job," Duane Morris 2011 Seminar Series on Developments in Workplace Law and Practice, May 2011
"HR Documentation: Rules, Risks and Best Practices," Duane Morris Breakfast Briefings, March 2011
"Privacy in the Workplace," Duane Morris Morning Seminar, September 2010; and California Legal Secretaries Association Annual Conference, February 2010
"Best Practices in Litigation Hold Notices," Duane Morris briefing, September 2010
"Developments in Wage and Hour Law," Paul, Plevin Annual Employment Law Update Seminar, October 2009
"Wage and Hour Law Basics" and "Personnel Law 101," seminars, San Diego Employers Association, 2008 and 2009