Duane Morris Attorney Christopher Yeh Wins Firm's 2014 Pro Bono Award
November 13, 2014

Yeh Helped Elderly Asian Immigrants with Complex Bankruptcy Case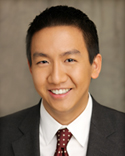 PHILADELPHIA, November 13, 2014—Duane Morris LLP associate Christopher B. Yeh accepted the firm's eighth annual Duane Morris Pro Bono Award on October 26 during the firm's annual meeting. Each year, the Pro Bono Award honors the attorney or group who has best exemplified Duane Morris' commitment to pro bono service and has made a significant impact on an individual or community. Yeh led a team in a multi-year, complex bankruptcy case on behalf of an elderly, low-income, immigrant couple against business partners who defrauded them.
Yeh received a favorable outcome on behalf of a couple who was defrauded by their friends and business partners after their restaurant closed in 2008. The business partners promised to pay off the remaining business debt, for which Yeh's clients were guarantors, from the business proceeds. Instead, the partners kept the money, leaving the couple holding the bills. Duane Morris sued the business partners in state court for breach of contract, fraud and unjust enrichment, among other actions, but they filed for bankruptcy. Yeh and his multi-office team pursued the business partners in the U.S. Bankruptcy Court for the Central District of California, filing an action for non-dischargeability due to the partners' fraud, among other actions. The court found that the partners committed fraud and awarded damages representing the debt owed.
Yeh was aided by attorneys and staff from the Los Angeles,San Francisco and Philadelphia offices, including attorneys Jeff Kahane, Audra Thompson, EJ Kim, Justin Fields, Russ Roten and Phil Wang. Staff members Gail Reinig, Diana Garcia, Greta Clark, Diane Martinez, Jean Marie Reed and Victor Lozano also offered assistance.
As part of the Pro Bono Award, the recipient may select a local legal services organization to which the firm will make a $5,000 charitable donation. Yeh selected the Asian Law Caucus, which is the nation's oldest legal and civil rights organization serving low-income Asian Pacific American communities.
Yeh is a trial lawyer focusing on complex business and intellectual property disputes in state and federal courts. Utilizing his broad experience in intellectual property, contract, business tort and insurance law, Yeh has litigated business disputes at the trial and appellate levels on a wide array of matters, such as breach of contract, patent, trade secret, unfair competition, insurance bad faith and cyberlaw for several Fortune 500 companies. Yeh also advises technology startups on contract, corporate and intellectual property matters.
Yeh is a member of the Leadership Development Committee of the Northern California chapter of the Association of Business Trial Lawyers and is active in the Diversity & Inclusion and Pro Bono Committees in Duane Morris' San Francisco office. He is a 2008 graduate of the University of California, Berkeley, Boalt Hall School of Law, where he was an editor for the California Law Review, articles editor and publishing editor for the Berkeley Technology Law Journal and a member of the Asian American Law Journal. Yeh also served as co-chair of the Asian Pacific American Law Student Association. He is a summa cum laude graduate of the University of California, Los Angeles, where he was elected to Phi Beta Kappa.
About Duane Morris
Duane Morris LLP, a law firm with more than 700 attorneys in offices across the Unites States and internationally, is asked by a broad array of clients to provide innovative solutions to today's legal and business challenges. Through legal services organizations across the country, Duane Morris attorneys provide pro bono assistance to low-income entrepreneurs and micro-enterprises that further economic development in struggling communities and serve persons with limited means.