Duane Morris Partner William Heuer Elected to American Law Institute
October 27, 2014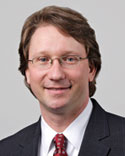 NEW YORK, October 27, 2014—Duane Morris LLP is pleased to announce that William C. Heuer, a partner in the firm's New York office, has been elected a member of the American Law Institute (ALI). Heuer, who practices primarily in business reorganization, bankruptcy law and creditors' rights litigation, is one of 50 new members recently elected by the ALI Council. Members are selected on the basis of professional achievement and demonstrated interest in improving the law, after the submission of a confidential nomination from an existing ALI member that is supported by two additional members.
The American Law Institute is the leading independent organization in the United States that produces scholarly work to clarify, modernize and otherwise improve the law. Consisting of 4,000 lawyers, judges and law professors from across the country and internationally, the ALI drafts, discusses, revises and publishes Restatements of the Law, model statutes and principles of law in order to exert influence in the courts and legislatures, as well as in legal scholarship and education.
Heuer represents secured creditors in loan default workouts and bankruptcies, with experience in a wide range of industries. He represents debtors in both domestic and international bankruptcy proceedings. Heuer has considerable bankruptcy appellate experience and has been involved in a number of landmark bankruptcy cases decided by the U.S. Supreme Court.
Heuer is a member of the Editorial Advisory Board of the Norton Journal of Bankruptcy Law and Practice, has authored numerous articles on bankruptcy law and is an adjunct professor of law in the LL.M. in bankruptcy program at St. John's University School of Law. He also devotes substantial time to pro bono matters, including consumer bankruptcy matters before the U.S. Supreme Court, and has earned recognition by the New York State Bar Association and the Association of the Bar of the City of New York for his efforts.
Heuer is a 1997 graduate of St. John's University School of Law, where he was articles editor of the American Bankruptcy Institute Law Review, and a graduate of the State University of New York at Buffalo.
About Duane Morris
Duane Morris LLP, a law firm with more than 700 attorneys in offices across the United States and internationally, is asked by a broad array of clients to provide innovative solutions to today's legal and business challenges.