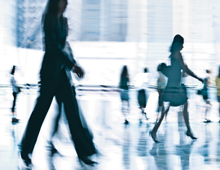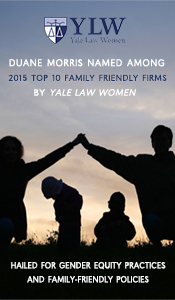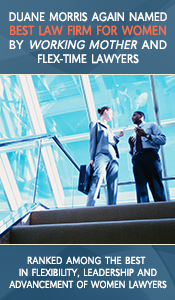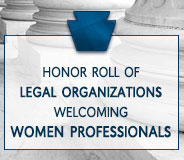 Accomplished Attorneys
Joining Duane Morris
Congratulations
New Partners - 2015

Developing Opportunities for Women in the Legal Profession
Our Women's Initiative is devoted to developing our women attorneys into leaders within the firm and in the industry. Through various programs, we exchange ideas, foster and expand business contacts and opportunities, and enhance attorney development in order to leverage the talent and knowledge of our women attorneys.
Awards & Accolades
Duane Morris is one of the Yale Law Women's 2015 Top Ten Family Friendly Firms and is consistently ranked as one of the 50 Best Law Firms for Women by Working Mother and Flex-Time Lawyers, based on the firm's family-friendly policies and business development initiatives that retain women and advance them into the leadership pipeline. The firm is included on The American Lawyer's Women Partner Watch Honor Roll, and in 2014 it recognized Duane Morris as one of only 20 law firms among the AmLaw 200 whose new partner classes were at least 30 percent women in each of the past three years. In addition, for the fifth year in a row, Duane Morris has been cited on the Honor Roll of Legal Organizations Welcoming Women Professionals by the Pennsylvania Bar Association Commission on Women in the Profession. Duane Morris' mentoring and networking programs for women attorneys have been cited by Law360, Women 3.0 magazine, Philadelphia magazine and others.
Many of our attorneys have also been honored, including: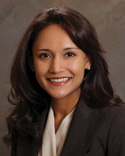 Partner Manita Rawat of the firm's Silicon Valley office has been chosen as a member of the Leadership Council on Legal Diversity's (LCLD) 2015 class of Fellows. This landmark program identifies, trains and advances the next generation of leaders in the legal profession. According the LCLD President Robert J. Grey, Jr., the LCLD Fellows Program offers participants "an extraordinarily rich year of relationship-building, virtual and in-person training, peer-group projects and extensive contact with LCLD's top leadership." LCLD was founded in 2009 and is an organization of more than 220 corporate chief legal officers and law firm managing partners who are personally committed to creating a truly diverse legal program. Rawat focuses her practice primarily in the area of intellectual property law and litigation. She is a registered patent attorney with the United States Patent and Trademark Office, and has significant experience in patent preparation and prosecution, primarily working with mechanical, aerospace and software technologies. Rawat is a part of the American Bar Association and donates her time to the Make-A-Wish Foundation of Southern Nevada, where she is on the Board of Directors, and the Legal Aid Center of Southern Nevada where she is a volunteer attorney for the Children's Attorneys Project.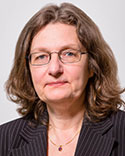 Partner Susan A. Laws of the firm's London office has been appointed to Duane Morris' five-member Executive Committee. She is the co-managing partner of the London office and focuses her corporate practice on business law and finance, mergers and acquisitions, venture capital financing and computer law. Laws is the first Duane Morris Executive Committee member from an office outside of the U.S. Laws will be replacing Sheila Hollis, partner and chair of the firm's Washington, D.C. office, who served on the Executive Committee for more than 10 years. Laws joined Duane Morris in 2000 upon the merger of her former firm, Geisler & Laws, into Duane Morris to launch the firm's London office. She is a frequent lecturer on the topic of mergers and acquisitions, and she is one of the few solicitors in the U.K. to hold a master's degree in business administration. Laws is a 1977 graduate of Southampton University and an M.B.A. graduate of Nottingham Law School. She Director of Motor Secretaries Limited, and is also on the boards of The Food Factor Limited and Certagent Limited.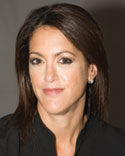 Duane Morris partner Nanette C. Heide, of the New York office, has received the Cheryl Bryson Leadership Award from the Duane Morris Women's Initiative for 2014. The Cheryl Bryson Leadership Award is given to female attorney leaders who have made significant contributions to the professional development and advancement of women lawyers. The award is named for the late Cheryl Blackwell Bryson, a Duane Morris partner in Chicago who died in January 2012 after a long battle with cancer. Heide focuses her practice in the areas of corporate and securities transactions, and general corporate counseling representing private equity and venture capital investors, and multinational and domestic corporations (public and private) She has served on the Women of Leadership Committee for the Association for Corporate Growth's (ACG) New York Chapter since 2008. She is also chair of programming for the Women's Initiative in Duane Morris' New York office and a member of its Steering Committee. Heide has been the past Treasurer and Audit Committee chair for the New York Junior League. She currently serves on the Duane Morris Partners Board and is a member of the Law Council for Washington and Lee University School of Law.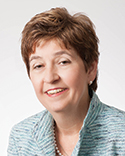 Duane Morris partner Beatrice O'Donnell, of the Philadelphia office, has received the inaugural Margery Reed Professional Excellence Award from the Duane Morris Women's Initiative. The award recognizes contributions toward creating, modeling and mentoring others regarding issues of work-life management and is named for the late Margery Reed, a Duane Morris partner in Philadelphia who died in December 2013. Throughout Margie's career, and even during her illness, her contributions to the firm were significant, including her work for key Duane Morris clients and her mentoring of younger lawyers. Beatty, an experienced trial lawyer focusing on health effects litigation, co-chairs the American Bar Association's Woman Advocate Committee and was a former co-chair of the Mass Torts Committee from 2009–2012 and in 2009, she was recognized as Outstanding Subcommittee Chair for her work. She is also a two-term past co-chair of the Pennsylvania Bar Association's Commission on Women in the Profession and serves on the Women's Initiative Steering Committee.
Speaking Engagements and Events
Duane Morris Women's Initiative
Recent and upcoming events include:
Duane Morris Partner Rachael G. Pontikes to Speak at the Animal Health and Veterinary Drugs and Therapeutics Forum
October 2, 2015 | Grand Cayman, Cayman Islands | Ritz-Carlton Hotel
Duane Morris Partner Megan Worrell to Speak at the Mourant Ozannes' International Trusts & Private Client Conference
September 10, 2015 | New York City | The Carlton Hotel
Duane Morris Partner Linda Hollinshead to Speak at the ADA and FMLA: What Employers Need to Know
July 22, 2015 | Philadelphia | Duane Morris LLP
Duane Morris Partner Sheila Slocum Hollis to Speak at Mexico's Energy Reforms — A Developing Destination for Investment
July 22, 2015 | Washington, D.C. | Duane Morris LLP
Duane Morris Partner Cyndie Chang to Speak at Women@theTable
June 25, 2015 | Los Angeles, CA
Duane Morris Partner Sheila Slocum Hollis to Present at ABA Women's Day on the Hill
June 23, 2015 | Washington, D.C.
Archived Events | Full list of Duane Morris Events
In the News and Bylined Articles
The State of India's Industries
By Babita Ambekar | Storm | July 14, 2015
Duane Morris Tries Different Spin on Summer Externship
By Patience Haggin | The Recorder | July 10, 2015
Duane Morris is Proud to Help Form the Peter Powerhouse Foundation for Childhood Cancer Patients
By Susan Snyder | The Philadelphia Inquirer | June 28, 2015
ABA Hosts Women's Day on the Hilll
By Staff Writer | The American Bar Association | June 24, 2015
Don't Snatch Defeat from the Jaws of Victory
By Sheila Hollis | The Hill | June 23, 2015
Affidavit: Healthcare and The Law — Healthcare Reform Update: What's in a Name?
By Lisa W. Clark | The Wharton Healthcare Quarterly | Spring 2015