Duane Morris Adds IP Partner Alain Villeneuve in Chicago
June 13, 2018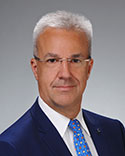 Alain Villeneuve
CHICAGO, June 13, 2018— Duane Morris LLP has added Alain Villeneuve as a partner in its Chicago office and a member of its Intellectual Property Practice Group. He joins the firm from Vedder Price in Chicago, where he was a shareholder. The addition of Villeneuve follows a May announcement that seven IP attorneys from Vedder Price had joined Duane Morris across its New York and Washington, D.C., offices.

"Alain brings a wealth of global experience to the firm and to our robust and growing IP practice," said Matthew A. Taylor, Duane Morris CEO and Chairman. "As a nationwide firm with a diverse client base, we are continually looking to onboard knowledge leaders such as Alain."
Villeneuve assists clients across a wide array of industries in corporate, intellectual property and immigration matters. He routinely handles patent and trademark registration, monitoring and defense efforts. Villeneuve has represented clients before United States and global regulatory and enforcement boards, including the U.S. Patent and Trademark Office's Trademark Trial and Appeal Board (USPTO) and the World Intellectual Property Organization (WIPO).
A former nuclear engineer and a licensed U.S. Patent Attorney, Villeneuve is experienced in drafting patent applications in a number of fields, including mechanical, electrical, wireless and computer software, and has filed for international patent and trademark applications under the PCT and Madrid Systems. Notably, one of the patents Villeneuve secured was cited by the U.S. Supreme Court in its decision in Bilski v. Kappos.
"Alain's background as a nuclear engineer adds additional depth to an already very deep technical bench in the patent space," said L. Norwood ("Woody") Jameson, partner and chair of Duane Morris' Intellectual Property Practice Group. "Alain also brings a holistic IP practice that includes licensing and trademark counseling, among other things. He will be a great addition to our IP group and the Chicago office."
Away from the office, Villeneuve is a triathlete and marathoner, competing in events nationally and internationally, including the World Outgames in Copenhagen, Denmark, in 2009, where he earned a gold medal in the triathlon.
Active in the community, Villeneuve is an adjunct professor at Chicago-Kent College of Law at the Illinois Institute of Technology, where he teaches International Intellectual Property Law. He is also a member of the board of directors for Clowns Without Borders—a nonprofit group that brings professional performing artists to refugee camps, conflict zones and communities who have experienced trauma or crisis, sharing performances and workshops.
"We're excited to have Alain join the Chicago office," said David B. Yelin, Managing Partner of Duane Morris' Chicago office. "His addition strengthens our growing IP practice."
Villeneuve is a graduate of the University of Illinois College of Law (J.D., cum laude, 2003) and Polytechnique Montréal (B.E., 1991; B.E., 1990).
About Duane Morris' Intellectual Property Practice Group
Duane Morris LLP has been ranked among the leading law firms handling patents, trademarks, copyrights and related IP litigation by national publications U.S. News and World Report and IP Law360. The firm's IP attorneys focus on leveraging clients' valuable intellectual property to help them achieve success in the marketplace, offering portfolio management and strategic advice on obtaining and protecting IP—from patents to trademarks and copyrights, to licensing and technology transfers, to IP audits and IP asset due diligence.
About Duane Morris
Duane Morris LLP provides innovative solutions to today's multifaceted legal and business challenges through the collegial and collaborative culture of its more than 800 attorneys in offices across the United States and internationally. The firm represents a broad array of clients, spanning all major practices and industries.