Duane Morris Associate John Kahn Named President of Garden State Bar Association
October 8, 2014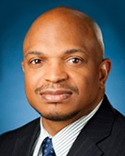 CHERRY HILL, N.J., October 8, 2014—Duane Morris LLP is pleased to announce that John Kahn, an associate in the firm's Cherry Hill office, has been named president of the Garden State Bar Association (GSBA). He was installed as president during an October 6 ceremony at the Aloft Hotel in Mount Laurel, N.J. Kahn will serve a one-year term.
Founded in 1962 as an informal group of African-American attorneys in Essex, Union and Hudson counties, the Garden State Bar Association is now New Jersey's oldest and largest professional organization for African-American judges, lawyers and law students. The organization focuses on improving the administration of justice in the state, supporting initiatives to improve the economic condition of all individuals and working to eliminate discrimination based on race and ethnicity. It also assists African-American and other minority lawyers in seeking judicial appointments.
Kahn practices in the area of litigation. He has handled healthcare fraud and abuse, mortgage fraud, securities fraud and class action claims, as well as claims arising under employment and healthcare plans. His experience encompasses all phases of litigation, including managing complex discovery issues, preparing and arguing motions and representing clients at trial in state and federal courts. Kahn has also obtained favorable results through representation in mediation and arbitration. In addition to his work for the Garden State Bar Association, he serves on the Board of Trustees of the Camden County Bar Association.
Kahn, who joined Duane Morris in 2013, earned his J.D. in 2005 from Rutgers Law School – Camden. He graduated with a B.A. in 1995 from Lafayette College. Prior to law school, Kahn was a Series 7 – General Securities Representative and Registered Investment Advisor.
About Duane Morris
Duane Morris LLP, a law firm with more than 700 attorneys in offices across the United States and internationally, is asked by a broad array of clients to provide innovative solutions to today's legal and business challenges.