Duane Morris Atlanta Office Adds Intellectual Property Partner Robin L. McGrath
March 8, 2017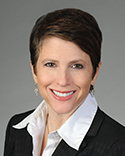 ATLANTA, March 8, 2017—Robin L. McGrath has joined Duane Morris LLP as a partner in the firm's Atlanta office. McGrath enhances the firm's intellectual property capabilities in Atlanta and nationally. She joins Duane Morris from Paul Hastings LLP.
McGrath concentrates her practice on litigating all aspects of patent, trademark and copyright disputes, as well as IP counseling. She has extensive courtroom experience representing both plaintiffs and defendants in the technology and financial technology industries, focusing on payment systems, business methods, software, telephone, internet and networking systems.
In her patent litigation work, McGrath has successfully defended clients such as a large-scale retailer and payment card company; an international industrial manufacturer; a telephone long distance carrier; a well-known financial institution in an action relating to text banking; and a banking institution in an action relating to ATM and branch locators, which resulted in a dismissal with prejudice of all claims. Additionally, she has represented one of the largest carpet manufacturers in patent infringement litigation resulting in a jury verdict of patent invalidity after a three-week trial; a governing, regulating and promoting body for a major sports league, as plaintiff, in a successful trademark infringement action resulting in injunction and payment of damages; and multiple financial institutions and technology providers in a patent infringement action, successfully invalidating all four patents-in-suit in inter partes review (IPR) proceedings. McGrath's representation of a medical manufacturer plaintiff in a trademark and breach-of-contract litigation lawsuit resulted in an injunction and a multimillion-dollar jury verdict.
McGrath has been regularly listed in The Best Lawyers in America and is recognized as its 2017 "Litigation - Intellectual Property Lawyer of the Year" for Atlanta. Chambers USA: America's Leading Lawyers for Business has ranked her as one of the top intellectual property attorneys in Georgia. Additionally, she has been included in Super Lawyers, which has repeatedly named her as one of the "Top 50 Women Lawyers in Georgia."
McGrath is a 1995 graduate of the University of Florida, Levin College of Law and a 1989 graduate of the University of Texas at Austin.
About the Duane Morris Atlanta Office
Lawyers in Duane Morris' Atlanta office provide an array of legal services to clients ranging from Fortune 500 companies to small entrepreneurial ventures. The Atlanta office is a global hub from which our attorneys help clients with a range of legal and business challenges, whether those clients are in Atlanta, across the U.S. or beyond.
About Duane Morris
Duane Morris LLP provides innovative solutions to today's multifaceted legal and business challenges through the collegial and collaborative culture of its more than 750 attorneys in offices across the United States and internationally. The firm represents a broad array of clients, spanning all major practices and industries.