Duane Morris Attorney Carolyn Alenci Elected to the Board of Women's Bar Association of Massachusetts
April 3, 2019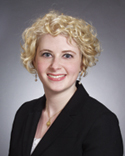 Carolyn A. Alenci
BOSTON, April 3, 2019 – Duane Morris LLP attorney Carolyn A. Alenci has been elected to the board of directors for the Women's Bar Association (WBA) of Massachusetts. The new board brings enthusiasm, a deep commitment to the WBA's mission and a record of leadership and results on issues important to women attorneys. Alenci and fellow board members, along with newly admitted lawyers, were welcomed at the WBA's annual meeting on March 28, 2019.
Alenci provides integrated, industry-focused strategic counseling and advocacy for clients in the pharmaceutical, medical device, cosmetic, and digital health industries. She combines her understanding of science, intellectual property, U.S. Food and Drug Administration (FDA) practice, and federal and state statutes, regulations and rules with industry-specific knowledge to define and drive client-centered strategies that align clients' business and legal goals. She also assists clients with securing intellectual property rights in the United States and abroad, providing freedom-to-operate, invalidity and infringement/noninfringement analyses, and petitioning for inter partes review before the U.S. Patent and Trademark Office (USPTO).
Alenci is a graduate of Franklin Pierce Law Center (LL.M., cum laude, 2009; and J.D., cum laude, 2009) and Auburn University (B.C.H.E., summa cum laude, 2006).
About the Women's Bar Association of Massachusetts
Founded in 1978 by a group of activist women lawyers, the Women's Bar Association boasts a vast membership of accomplished women lawyers, judges and law students across Massachusetts. The WBA is committed to the full and equal participation of women in the legal profession and in a just society. The WBA works to achieve this mission through committees and taskforces and by developing and promoting a legislative agenda to address society's most critical social and legal issues. Other WBA activities include drafting amicus briefs, studying employment issues affecting women, encouraging women to enter the judiciary, recognizing the achievement of women in the law, and providing pro bono services to women in need through supporting its charitable sister organization, the Women's Bar Foundation. For more information, visit wbawbf.org.
About Duane Morris
Duane Morris LLP provides innovative solutions to today's multifaceted legal and business challenges through the collegial and collaborative culture of its more than 800 attorneys in offices across the United States and internationally. The firm represents a broad array of clients, spanning all major practices and industries.