Duane Morris Attorney Kevin Potere Honored with New York State Courts Access to Justice Pro Bono Award
Press Release
October 15, 2012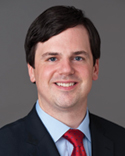 NEW YORK, October 15, 2012—Duane Morris associate Kevin Potere of the firm's New York office has been selected to receive the "2012 New York State (NYS) Courts Access to Justice Pro Bono Award" for his "outstanding work and dedicated service" in the NYS Courts Access to Justice's Family Court Volunteer Lawyer Program. Through the program, Potere and other Duane Morris lawyers volunteer time each month at the Brooklyn Family Court to advise pro se litigants on family law matters.
The award will be presented to Potere by the Honorable Fern Fisher, Deputy Chief Administrative Judge, during a ceremony in celebration of National Pro Bono Celebration Week on October 25 at the New York City Civil Court in Manhattan.
Potere practices in the area of litigation, with particular emphasis on securities and commercial litigation, real estate, white-collar and government affairs. Potere is a graduate of Vanderbilt University Law School and Cornell University.
Duane Morris' Pro Bono Program provides free legal services to those in our communities least able to afford them. The importance of pro bono work and volunteerism has been an integral part of the firm's culture since its inception more than 100 years ago.
About the New York State Courts Access to Justice Program
The mission of the Access to Justice Program is to ensure access to justice in civil and criminal matters for New Yorkers of all incomes, backgrounds and special needs by using every resource, including self-help services; pro bono programs; and technological tools; and by securing stable and adequate nonprofit and government funding for civil and criminal legal services programs.
About Duane Morris
Duane Morris LLP, a global law firm with more than 700 attorneys in offices across the United States and around the world, is asked by a broad array of clients to provide innovative solutions to today's legal and business challenges.