Duane Morris Celebrates Pride Month
June 1, 2018

Duane Morris and our attorneys support and participate in the LGBTQ community through our roles in networking groups, law associations and nonprofit organizations, as well as via pro bono assistance. Duane Morris Pride, part of our Diversity and Inclusion program, helps create awareness and visibility for LGBTQ persons, allies and issues within our firm. We are proud to celebrate Pride Month and share some highlights of our accomplishments and endeavors.
"Best Place to Work for LGBTQ Equality" by Human Rights Campaign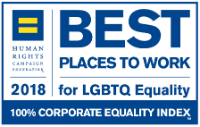 Duane Morris earned a 100 percent score and the distinction of "Best Places to Work for LGBTQ Equality" from the Human Rights Campaign Foundation's 2018 Corporate Equality Index, the national benchmarking tool on corporate policies and practices pertinent to lesbian, gay, bisexual, transgender and queer employees.
Tom Homann LGBT Law Association: Friends of the Community
Duane Morris is proud of our longstanding relationship with the Tom Homann LGBT Law Association. Several of our attorneys have served in leadership roles with the organization. Two of our attorneys—Patricia Hollenbeck and Jennifer Kearns—have received the annual "Friend of the Community Award," which is presented to people who have made a positive impact in San Diego and the lesbian, gay, bisexual and transgender (LGBT) community in particular.
Supporting GLAAD's Spirit Day

On Spirit Day, Duane Morris turns its website purple to support LGBT youth and the Gay & Lesbian Alliance Against Defamation's (GLAAD) anti-bullying campaign. The Daily Report's ATLaw Blog recognized that Duane Morris led the way among law firms in this consciousness-raising effort, being the only firm listed as a participant as far back as 2012. Since then, other law firms have joined Duane Morris and the many well-known companies who pledge to go purple each October.
Political Asylum for LGBTQ Individuals Fearing Persecution and Death
Through Immigration Equality, the nation's leading LGBTQ immigrant rights organization, Duane Morris regularly represents individuals seeking asylum in the United States fearing persecution in their home country as a result of their sexual orientation. Originally from Ghana, one client nearly was beaten to death for being gay and was imprisoned for 20 days to "cure" his homosexuality. The client fled Ghana to Brazil and eventually set out by bus, foot and human smuggler through South and Central America to California, seeking safety and asylum. In California, the client was detained by United States immigration officials and placed into deportation proceedings. Duane Morris argued that the client feared persecution in Ghana and should not be ordered removed. The Philadelphia Executive Office for Immigration Review and the Department of Homeland Security agreed the client's fear was credible and granted him asylum.
Another client, a gay man from Jamaica, was forced to marry a woman to "prove" he was not gay. He fled his home country after being stoned and his wife attempting to kill him. He sought asylum in the United States so he could live a happy, secure life with his partner. Duane Morris attorneys from the Miami and Philadelphia offices successfully represented the client in an affirmative asylum application based on persecution related to his sexual orientation.
Equality Illinois

Duane Morris was named a top law firm in the Equality Illinois "Raising the Bar" annual survey, recognizing best practices in recruiting, hiring and retaining LGBTQ employees.
Champions of the Community
Duane Morris attorneys serve or have served in organizations supporting the LGBTQ community, including:
American Civil Liberties Union (ACLU)
Equality Advocates Pennsylvania (formerly Center for Lesbian and Gay Civil Rights)
Human Rights Campaign
Independence Business Alliance—Greater Philadelphia's LGBT Chamber of Commerce
Lawyers' Committee for Civil Rights of the San Francisco Bay Area
Mama's Kitchen, San Diego
New York Civil Liberties Union
Our Fund Foundation of South Florida
Philadelphia Diversity Law Group
Tom Homann LGBT Law Association
Washington Peace Center
About Duane Morris
Duane Morris LLP provides innovative solutions to today's multifaceted legal and business challenges through the collegial and collaborative culture of its more than 800 attorneys in offices across the United States and internationally. The firm represents a broad array of clients, spanning all major practices and industries.