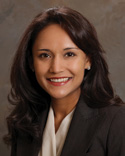 Manita Rawat
PALO ALTO, California, May 13, 2020—Duane Morris LLP partner Manita Rawat has been named one of the Silicon Valley Business Journal's Women of Influence for 2020. Each year, the publication selects 100 women representing Silicon Valley companies that have made notable contributions in their community and professions.
Rawat was selected for her role as managing partner of Duane Morris' Silicon Valley office and her work counseling clients in the Silicon Valley area on a variety of issues related to intellectual property, including patent portfolio management, intellectual property due diligence, patentability analysis, invalidity opinions, management and analysis of prelitigation matters. Her dedication to mentoring women and diverse attorneys throughout the firm and throughout the Silicon Valley community was another factor. Rawat remains committed to providing women and diverse attorneys with more opportunities by regularly ensuring that her teams consist of women and diverse attorneys and by providing them with opportunities to advance their careers.
About Duane Morris' Silicon Valley Office
Duane Morris opened its office in Palo Alto in 2013 to provide more efficient and direct service to clients throughout Silicon Valley and enhance its capabilities in California and nationally. A global high-technology hub and home to many of the world's most successful and innovative companies, Silicon Valley is a natural fit for Duane Morris' strengths in IP litigation, patent, trademark and trade secret, as well as IP transactional, patent and trademark prosecution, inter partes review, licensing and due diligence. Duane Morris attorneys from its five California offices, and elsewhere throughout the world, work extensively with high-tech clients and bring a broad base of experience and relationships with businesses and professionals in the valley.
About Duane Morris
Duane Morris LLP provides innovative solutions to today's multifaceted legal and business challenges through the collegial and collaborative culture of its more than 800 attorneys in offices across the United States and internationally. The firm represents a broad array of clients, spanning all major practices and industries.