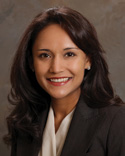 Manita Rawat
PALO ALTO, Calif., Aug. 6, 2018—Duane Morris LLP has appointed Manita Rawat managing partner of the firm's Silicon Valley office. Rawat succeeds Karineh Khachatourian, who joined Duane Morris in 2013 as the founding partner of the office.
"Manita brings to this role the intelligence, enthusiasm and leadership qualities that will help Duane Morris continue to realize our strategic vision in this critical high-tech center, as well as our goal of broadening the Duane Morris brand throughout California," said Matthew A. Taylor, Duane Morris CEO and Chairman.
Said L. Norwood ("Woody") Jameson, chair of the Duane Morris Intellectual Property Practice Group, "Manita is a high energy leader within our national and global intellectual property practice group. As we seek to grow the office to serve our important clients in the Silicon Valley, we are confident that Manita brings a real sense of vitality and momentum to our prospects both in the Valley and throughout the U.S. and global IP communities."
Duane Morris' Silicon Valley office is one of five in California, including locations in San Francisco, Los Angeles, San Diego and Lake Tahoe. The firm has over 800 attorneys worldwide, including 140 in California.
"We're excited to continue to leverage the synergies between our Silicon Valley and other California offices under Manita's leadership," said Stephen H. Sutro, managing partner of Duane Morris' San Francisco office. "Our California offices have always worked closely together to meet the needs of our clients and, with Manita's guidance, that will continue as we expand in the state."
"It's an honor to be chosen to lead an office with such a tight-knit group of highly talented and dedicated attorneys," Rawat said. "I'm excited to work with my colleagues in Silicon Valley and around the firm to continue the success we've had under Karineh Khachatourian since the opening of this office."
Rawat practices primarily in the area of intellectual property law and litigation. She has a strong technical background in applied mathematics with a concentration in computer science, aerospace engineering and statistical analysis, as well as biochemistry. As a registered patent attorney with the United States Patent and Trademark Office, Rawat has significant experience in patent preparation and prosecution, and patent office post-grant proceedings (including inter-partes review and reexamination), working primarily with mechanical, aerospace and software technologies. She also has significant experience with trademark and copyright prosecution, patent and trademark litigation, and commercial litigation. Rawat counsels her clients in a variety issues related to intellectual property, including patentability analysis, invalidity opinions, portfolio management and analysis of pre-litigation matters. She also assists clients in patent licensing and transactional matters, including structuring, negotiating and drafting agreements.
Rawat is a graduate of the University of Illinois College of Law (J.D., 2005) and a graduate of the University of Nevada, Reno (B.S., 2001). She also studied at St. Peter's College of University of Oxford, United Kingdom, through the Intellectual Property Law Scholars Program.
About the Duane Morris Silicon Valley Office
Duane Morris opened its office in Palo Alto in 2013 to provide efficient, direct service to clients throughout Silicon Valley, and to enhance its capabilities in California and nationally. A global high-technology hub and home to many of the world's most successful and innovative companies, Silicon Valley is a natural fit for the firm's strengths in IP patent, trademark and trade secret litigation, as well as IP transactional, patent and trademark prosecution, inter partes review, licensing and due diligence. Duane Morris attorneys from its five California offices, and elsewhere throughout the world, work extensively with high-tech clients and bring a broad base of experience and relationships with businesses and professionals in the Valley. Duane Morris' Silicon Valley office is one of a small number of law firm offices in Silicon Valley to be led by a woman since its inception.
About Duane Morris
Duane Morris LLP provides innovative solutions to today's multifaceted legal and business challenges through the collegial and collaborative culture of its more than 800 attorneys in offices across the United States and internationally. The firm represents a broad array of clients, spanning all major practices and industries.