Duane Morris New York Office Adds White-Collar Defense Partner Daniel M. McGillycuddy
January 5, 2017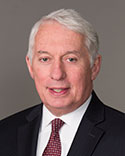 NEW YORK, January 5, 2017—Daniel M. McGillycuddy has joined Duane Morris LLP as a partner in the firm's New York office. McGillycuddy enhances the firm's litigation capabilities, particularly in white-collar defense and investigations, both regionally and nationally. He joins Duane Morris from Morrison Cohen LLP.
McGillycuddy has more than 30 years of litigation experience, serving as first chair at more than 125 trials and hearings in both state and federal court throughout the U.S. He has broad experience handling complex, high-stakes criminal and civil matters involving a wide range of issues. McGillycuddy has represented both corporations and individuals in white-collar prosecutions and corporate and regulatory investigations involving securities fraud, corruption, antitrust violations, healthcare fraud, the Foreign Corrupt Practices Act (FCPA) and environmental crimes. He has also represented corporate managers in connection with internal investigations.
Recently, McGillycuddy successfully represented a national medical-monitoring company investigated by the Connecticut U.S. Attorney and FBI for violating the False Claims Act. In the civil arena, he has successfully represented an oil company in a $300 million contract dispute; secured a temporary restraining order in Arkansas for a Fortune 500 company pursuing civil fraud and contract breach claims; received a seven-figure settlement award before an arbitration panel against a German company on behalf of the innovator of cellular imaging technologies and methodologies; and obtained a highly-favorable ruling in New York County Supreme Court in a stock evaluation dispute arising from the breakup of a closely held partnership.
McGillycuddy served as a New York County Assistant District Attorney for nearly 25 years. He was the lead prosecutor in a case alleging conspiracy to murder a sitting New York County Supreme Court Justice; the "Scores Double Murder" trial, which involved an 18-month fugitive investigation and relied on testimony from a cooperating witness associated with the Gambino crime family; the investigation of a New York-Boston narcotics distribution conspiracy involving members of the Lucchese crime family; a successful investigation and prosecution of homicide and narcotics-related crimes by members of the "Westies," the Hell's Kitchen gang; and the prosecution of an attorney who hired a hitman to assault and maim his opposing counsel in a civil case.
McGillycuddy is a 1979 graduate of the University of Virginia School of Law, where he was research and projects editor of the Virginia Journal of International Law, and a 1976 graduate of Princeton University.
About the Duane Morris New York Office
Duane Morris' New York office provides a diverse range of services to domestic and international clients ranging from large multinational corporations to closely held entrepreneurial businesses. The Duane Morris New York office serves clients operating within the many global industries (including financial services and insurance) that conduct business in the world's financial center.
About Duane Morris
Duane Morris LLP provides innovative solutions to today's multifaceted legal and business challenges through the collegial and collaborative culture of its more than 750 attorneys in offices across the United States and internationally. The firm represents a broad array of clients, spanning all major practices and industries.