Duane Morris New York Office Adds Former EMCOR Executive Sheldon Cammaker
February 14, 2017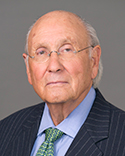 NEW YORK, February 14, 2017—Sheldon I. Cammaker has joined Duane Morris LLP as of counsel in the firm's New York office. Cammaker enhances the firm's corporate capabilities in New York, nationally and internationally. He joins Duane Morris from EMCOR Group, Inc., a Fortune 500 construction-related company with annual revenues in excess of $7.5 billion, where he served as vice chairman, executive vice president and general counsel.
Cammaker focuses his practice on corporate law, with an emphasis on securities, financing and commercial law. He became vice chairman of EMCOR Group in 2016, after serving as its executive vice president and general counsel since 1987. During his tenure with the company, Cammaker was one of four members of the executive management group, which saw the company's revenue grow tenfold. He acted as principal legal counsel on more than 200 acquisitions ranging from $25 million to over $400 million, as well as on a number of significant credit agreements. Nearly all of these acquisitions were handled solely in-house by EMCOR's legal department. The Connecticut Law Tribune awarded EMCOR the 2015 Big Deals Award.
As general counsel, Cammaker was also responsible for EMCOR's varied legal affairs, including corporate governance, compliance and litigation. Before joining EMCOR, he was a senior partner at the law firm of Botein, Hays & Sklar, in New York, where he focused on corporate and securities law.
Cammaker is a cum laude graduate of Harvard Law School and a magna cum laude graduate of Brandeis University.
About the Duane Morris New York Office
Duane Morris' New York office provides a diverse range of services to domestic and international clients ranging from large multinational corporations to closely held entrepreneurial businesses. The Duane Morris New York office serves clients operating within the many global industries (including financial services and insurance) that conduct business in the world's financial center.
About Duane Morris
Duane Morris LLP provides innovative solutions to today's multifaceted legal and business challenges through the collegial and collaborative culture of its more than 750 attorneys in offices across the United States and internationally. The firm represents a broad array of clients, spanning all major practices and industries.