Duane Morris New York Office Adds Employment and Labor Partners Anthony Rao and Michael Tiliakos
Press Release
July 16, 2012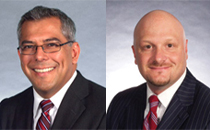 NEW YORK, July 16, 2012—Duane Morris is pleased to announce that Anthony Rao and Michael Tiliakos have joined the firm's Employment, Labor, Benefits and Immigration Practice Group as partners in its New York office. Rao will also practice out of the firm's San Francisco office. Rao and Tiliakos' arrival further strengthens Duane Morris' growing labor and employment practice, as well as its New York office, where the firm recently added a dozen lawyers from the former Dewey & LeBoeuf law firm – including attorneys who focus on employee benefits matters. Rao and Tiliakos join from Rao Tiliakos, a labor and employment boutique they founded in 2008 and which had offices in New York and San Francisco. Prior to that, they practiced at Seyfarth Shaw LLP.
Anthony Rao has substantial experience conducting nationwide audits on labor and employment practices, class action avoidance, and wage-and-hour issues. He has extensive litigation experience defending Fortune 100 companies in wage-and-hour class and collective actions, and in all types of employment litigation in federal and state courts. In addition, Rao has had lead responsibility in multi-party lawsuits, arbitrations, mediations and administrative hearings and audits before federal and state administrative agencies.
Rao regularly counsels corporate clients on preventive employment policies and practices involving all areas of federal, state and local employment law, including recruiting and hiring; employee handbooks; leaves of absence; training; discipline and termination; workforce reductions; independent contractors; discrimination and harassment; reasonable accommodation; trade secrets; restrictive covenants and unfair competition; wage and hour; Department of Transportation regulations; employment contracts; privacy; investigations and best practices.
Rao is a member of the American Bar Association Section of Labor and Employment; the New York State Bar Association - Wage & Hour and Workplace Rights and Responsibilities Committees; the California State Bar Association - Labor and Employment Law Section; the San Francisco Bar Association - Labor and Employment Law Section; the National Native American Bar Association; the Native American Bar Association of New York; and the Native American Finance Officers Association.
Rao earned his J.D. in 1994 from University of California at Davis School of Law, and earned his B.S. in 1988 from University of California at Davis. He is admitted to practice in New York, California and the District of Columbia. Rao is the author of the Tri-State Employment Law blog.
Michael Tiliakos has significant experience representing both private and municipal clients in employment actions, including class and collective actions, brought under anti-discrimination statutes, and in such civil rights cases as false arrest, excessive use of force, malicious prosecution, selective enforcement and First Amendment retaliation. He also focuses his practice in the area of traditional labor work. His trial experience includes four federal jury trials, including a July 2008 defense verdict in a large FLSA collective action concerning the exempt status of select groups of sergeants in the New York City Police Department.
Tiliakos conducts extensive employee and management training courses, including anti-harassment training and courses on how to effectively manage employees in accordance with various employment laws. He also counsels clients on compliance with employment laws and conducts workplace investigations and wage-and-hour audits.
Prior to practicing privately, Tiliakos served as an Assistant Corporation Counsel with the New York City Law Department, where he handled matters ranging from workers' compensation to employment discrimination cases and civil rights violations. In 1997, he received an award from the Corporation Counsel in recognition of his outstanding performance and dedication.
Tiliakos is a board member of the Hellenic Lawyers Association, and a member of the Hellenic-American Chamber of Commerce and the Manhattan Chamber of Commerce. He serves as legal counsel for the Plandome Heights Civic Association, and has served as a lecturer for the Society for Human Resource Management - Human Resources Association of New York. He is also a volunteer lecturer with Workshop in Business Opportunities (WIBO), a nonprofit organization that assists small business owners and entrepreneurs from underserved communities.
Tiliakos earned his J.D. in 1996, cum laude, from New York Law School and his B.A. in 1993, with honors, from Pennsylvania State University. He is admitted to practice in New York and New Jersey.
About Duane Morris
Duane Morris LLP, a global law firm with more than 700 attorneys in offices across the United States and around the world, is asked by a broad array of clients to provide innovative solutions to today's legal and business challenges.