Duane Morris Partner Christopher Soriano Receives Firm's Inaugural Pro Bono Leadership Award
October 28, 2015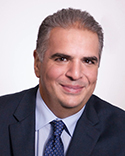 CHERRY HILL, N.J., October 28, 2015—Duane Morris LLP is pleased to announce that Christopher Soriano, a partner in the firm's Cherry Hill, N.J., office, received the inaugural Duane Morris Pro Bono Leadership Award. The award honors an attorney who exemplifies the spirit of pro bono: a selfless, longstanding and unwavering commitment to pro bono service; a leader by example, who accepts pro bono matters without fanfare; and a pro bono contributor who encourages and mentors other firm attorneys in pro bono service. Soriano received the award at Duane Morris' annual firm meeting.
"Chris owns a rare combination of great talent and great heart," said Hersh Kozlov, managing partner of Duane Morris' Cherry Hill office and leader of the firm's Gaming Industry Practice Group. "Whether he's working with his clients in the gaming industry or serving those in need, he approaches each case with the same fierce dedication and passion. We are extremely proud of him."
Soriano was recognized for his consistent contribution of 100 pro bono hours annually throughout his career at the firm. In his pro bono work, he represents the parents of a young, autistic student to guarantee the parents' meaningful participation in developing the student's education plan, as well as ensuring that the student is afforded appropriate education in light of her abilities. An ongoing matter for many years, Soriano, with assistance from Vincent Nolan, a special counsel in the Cherry Hill office, advocated for the family in various tribunals, including obtaining a precedent-setting District Court decision, affirmed by the Third Circuit securing protection of the parents' rights. He additionally mentors colleagues in New Jersey court appointed parole revocation cases.
In his primary practice focus as a gaming lawyer, Soriano represents a wide range of stakeholders in the gaming industry—casinos, private equity and hedge funds, lottery companies, gaming technology manufacturers and equipment suppliers, and individuals—in all aspects of the licensing and regulatory process. He also concentrates on the legal implications of cutting-edge issues, such as Internet gaming, Internet lottery, sports betting and real-money fantasy sports. Soriano has practiced before the Pennsylvania Gaming Control Board, New Jersey Casino Control Commission and numerous other gaming regulatory bodies, as well as advised clients with regard to regulatory applications and compliance in many states in the United States and provinces in Canada. Soriano has represented gaming industry clients in administrative actions and in litigation and has experience handling, among other cases, complex class actions, consumer fraud cases, public contracting disputes, construction matters, administrative complaints and special education cases.
Soriano is a 2003 cum laude graduate of Temple University Beasley School of Law, where he was a staff member and business editor of the Temple Law Review. He is a 2000 magna cum laude graduate of George Washington University. Soriano is chairman of the planning board of the Borough of Haddon Heights, N.J., and one of Haddon Heights' elected representatives to the Camden County Republican Committee.
About the Duane Morris Pro Bono Program
Duane Morris' Pro Bono Program provides free legal services to those in our communities least able to afford them. The importance of pro bono work and volunteerism has been an integral part of Duane Morris' culture since the firm's inception more than 100 years ago.
About Duane Morris
Duane Morris LLP, a law firm with more than 700 attorneys in offices across the United States and internationally, is asked by a broad array of clients to provide innovative solutions to today's legal and business challenges.