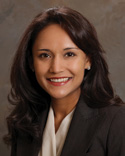 Silicon Valley and Las Vegas, October 13, 2016—Duane Morris partner Manita Rawat was named a recipient of the 2016 National Asian Pacific American Bar Association (NAPABA) "Best Under 40" Award, which recognizes individuals within the Asian Pacific American legal community under the age of 40 who have achieved prominence and distinction in their fields of endeavor—be it the practice of law, academia, business, civic and charitable affairs, the judiciary or politics—and who have demonstrated a strong commitment to Asian Pacific American civic or community affairs.
Ms. Rawat practices primarily in the area of intellectual property law and litigation. Ms. Rawat has a strong technical background in applied mathematics with a concentration in computer science, aerospace engineering, statistical analysis and biochemistry. As a registered patent attorney with the United States Patent and Trademark Office, Ms. Rawat has significant experience in patent preparation and prosecution and patent office post grant proceedings (including inter partes review and reexamination), working primarily with mechanical, aerospace and software technologies.
Ms. Rawat served as a Fellow to the Leadership Council on Legal Diversity from 2015 to 2016, as well as on the board of directors of the Make-A-Wish Foundation® of Southern Nevada from 2013 to 2015. Ms. Rawat worked for the Obama campaign from 2007 to 2008 on voter outreach efforts in the State of Nevada and was the first South Asian elected to be a National Delegate from Nevada at the Democratic National Convention in August of 2008. Ms. Rawat is also a classically trained concert violinist with numerous performances throughout the country, including a performance at an event honoring retired Supreme Court Justice John Paul Stevens in Illinois.
About NAPABA
The National Asian Pacific American Bar Association (NAPABA) is the national association of Asian Pacific American attorneys, judges, law professors, and law students. NAPABA represents the interests of almost 50,000 attorneys and nearly 75 state and local Asian Pacific American bar associations. Its members include solo practitioners, large firm lawyers, corporate counsel, legal service and non-profit attorneys, and lawyers serving at all levels of government. NAPABA continues to be a leader in addressing civil rights issues confronting Asian Pacific American communities. Through its national network of committees and affiliates, NAPABA provides a strong voice for increased diversity of the federal and state judiciaries, advocates for equal opportunity in the workplace, works to eliminate hate crimes and anti-immigrant sentiment, and promotes the professional development of people of color in the legal profession.
About Duane Morris
Duane Morris LLP provides innovative solutions to today's multifaceted legal and business challenges through the collegial and collaborative culture of its more than 750 attorneys in offices across the United States and internationally. The firm represents a broad array of clients, spanning all major practices and industries.