Duane Morris Partner Oderah C. Nwaeze Named to Philadelphia Business Journal's "40 Under 40" List
April 8, 2020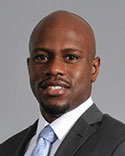 Oderah C. Nwaeze
Duane Morris partner Oderah C. Nwaeze has been named to Philadelphia Business Journal's "40 Under 40" list.
The list honors professionals who have demonstrated business success, community involvement, leadership ability and influence. Mr. Nwaeze will be honored at a reception on August 27, 2020.
Mr. Nwaeze is a trial lawyer with significant experience litigating complex corporate and commercial matters. His experience consists of corporate governance actions, statutory actions arising under Delaware General Corporation Law, state and federal class actions (including matters involving state and federal securities laws, statutory and common law fraud, and breaches of fiduciary duty) and breach of contract disputes. He also represents financial institutions in litigation matters and has a unique understanding of the legal and business sensitivities of banking clients, which he sharpened through a secondment with TD Bank, N.A. in 2018.
Mr. Nwaeze sits on the Duane Morris Philadelphia office's Inclusion Committee. He also serves on the Compliance Committee of the Board of Trustees for Bancroft, a nonprofit provider of specialized services for individuals with brain injuries, autism and intellectual disabilities. In March 2019, he was appointed to the board of directors for Campus Philly, an organization dedicated to fueling economic growth in Philadelphia by encouraging college students to study, explore, live and work in the Greater Philadelphia tri-state region.
Highlights from Mr. Nwaeze's profile:
How are you coping during the quarantine and what have you learned from it?
Since my schedule no longer is dictated by the need to be in the office or at a meeting by a particular time, I have had to become more thoughtful and proactive to create a routine that will maximize my productivity and motivation.
How did you get involved with Campus Philly?
All the credit goes to the Philadelphia Chapter of POWER (the Power of Professional Women) and my wife, Tilewa Otunba Nwaeze, who invited me to speak at an event where I met the dynamic, Ashlie Thornbury. Ashlie introduced me to Campus Philly's president, Deborah Diamond, who invited me to serve on Campus Philly's board. As has become a theme in my life, I am immensely thankful for their blind faith in me.
How would you describe your courtroom style?
I am overly prepared, yet relaxed and conversational. I also am willing to give as good as I get.
What advice would you give to someone looking to get into your field of work?
Be intentional and disciplined about what you want to accomplish. Find role models that include your peers, and learn from their mistakes, aspirations, and successes.
Do you have any routines or daily practices to keep yourself focused and on track?
Every night, I try to make a to-do list and visualize the next day. I also try to read a case or article relevant to my practice area.
What would you like to tell your future self 40 years from now?
There is no success without the friends and family that have supported you all along. But, don't forget to cross all the names off that "list."
For more information, visit the Philadelphia Business Journal website (subscription required).