Duane Morris Partner Richard Lowe Elected to Pennsylvania Prison Society Board of Directors
June 10, 2016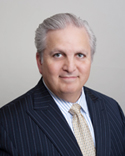 PHILADELPHIA, June 10, 2016—Duane Morris LLP partner Richard H. Lowe of the firm's Philadelphia office has been elected to the Pennsylvania Prison Society board of directors. Founded in 1787, the Prison Society advocates for a humane, just and restorative correctional system, and it promotes a rational approach to criminal justice issues. Lowe will serve a three-year term on the board.
Lowe concentrates his practice in construction and commercial litigation and construction law. He handles complex construction litigation, arbitration and mediation matters for owners, contractors, design-builders, design professionals, sureties, subcontractors and suppliers. Lowe has drafted and negotiated large construction contracts.
Lowe is active in the Associated General Contractors of America (AGC). As chair of the AGC's BIMForum's Legal Subforum, he led a national effort to create the first contract form specifically applicable to projects using building information modeling (BIM)—a BIM addendum. Lowe also served as vice-chair of the AGC's Contract Documents Committee. Long active in the American Bar Association (ABA), he has served as co-chair of the ABA's Construction Litigation Committee and as a member of the Steering Committee for Division 3 (Design) of the ABA Forum on the Construction Industry. Lowe was an editor of The Construction Contracts Book: How to Find Common Ground in Negotiating Design and Construction Contract Clauses, an ABA book stemming from a paper he wrote. In addition, he is a member of the Society of Construction Law, the largest group of construction lawyers in the United Kingdom.
Described as a "top notch litigator," with a Band One rating in the 2015 and 2016 editions of Chambers USA: America's Leading Lawyers for Business, Lowe is a Fellow of the American College of Construction Lawyers. He serves as an arbitrator and mediator for the American Arbitration Association and is a LEED Accredited Professional.
Lowe graduated with honors in 1982 from New York University School of Law and is a graduate of Yale University. He was mayor of the Borough of Swarthmore, Pa., from 2010–2014 and has served as borough solicitor. For his efforts, the Swarthmore Lions Club named him Citizen of the Year in 2015.
About Duane Morris
Duane Morris LLP provides innovative solutions to today's increasingly complex legal and business challenges through the collaborative culture of its more than 750 attorneys in offices across the United States and internationally. The firm represents a broad array of clients, spanning all major practice areas, serving dozens of diverse industries.