Duane Morris Partner Suzan Jo Named to the Leadership Council on Legal Diversity's 2014 Fellows Program
March 4, 2014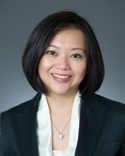 NEW YORK, March 3, 2014—Duane Morris LLP is pleased to announce that partner Suzan Jo in the firm's New York office has been selected for the 2014 Fellows Program of the Leadership Council on Legal Diversity (LCLD), a national organization composed of the legal profession's top general counsel and managing partners. Jo joins a class of 170 attorneys from around the United States who have been selected as LCLD Fellows for 2014—the largest class in the program's history.
Launched in 2011, the LCLD Fellows program is an ambitious, highly structured initiative built to increase diversity at the leadership levels of the nation's law firms and corporate legal departments. Over the course of the yearlong program, participants will be challenged to improve their professional brands, build relationships that enhance professional development, participate in corporate learning experiences and sharpen stewardship and leadership skills.
"We are extremely proud that Suzan has been chosen for this great honor and are pleased to see her hard work and dedication to the law recognized and rewarded," said John J. Soroko, Chairman of Duane Morris.
"Our Fellows program is a unique learning experience designed to empower a new generation of lawyers," said Brad Smith, LCLD Chair and Executive Vice President and General Counsel of Microsoft Corporation. "These talented individuals have been singled out for leadership by their organizations, and represent a broad spectrum of backgrounds that are as diverse as the country they serve."
Jo has a broad litigation practice, representing clients in both federal and state courts, as well as arbitration tribunals, with a particular emphasis on complex securities, commercial and intellectual property litigation. She also represents corporations and individuals on matters involving both federal and state securities laws, duties of corporate directors, SEC and stock exchange inquiries and investigations, and civil RICO matters.
Jo is a 2003 graduate of New York University School of Law and a cum laude graduate of Stony Brook University. She has been named to Super Lawyers' list of "Rising Stars" for three consecutive years (2011, 2012 and 2013).
About the Leadership Council on Legal Diversity (LCLD)
Formed in 2009, LCLD comprises general counsel from preeminent United States corporations and the managing partners of the nation's leading law firms. Since its inception, LCLD has developed innovative programs in addition to the Fellows Program to address "pipeline" issues that face the profession by encouraging minorities and women to enter the law and supplying programs to increase their likelihood of success in law school and beyond. For more information on the LCLD, please visit www.lcldnet.org.
About Duane Morris
Duane Morris LLP, a law firm with more than 700 attorneys in offices across the United States and internationally, is asked by a broad array of clients to provide innovative solutions to today's legal and business challenges.