Duane Morris Partner William D. Barwick to Receive Atlanta Bar Association Leadership Award
February 16, 2011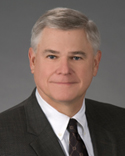 ATLANTA, February 16, 2011—Duane Morris partner William D. Barwick has been selected to receive the 2011 Atlanta Bar Association Leadership Award. This honor is presented to members who "inspire by their example, challenge by their deeds and remind us all of our debt to our profession and our community." The award will be presented to Barwick at a luncheon on Wednesday, March 2, from 11:30 a.m.to 1:30 p.m. at the Piedmont Driving Club in Atlanta.
"One of the best parts of being the president of the Atlanta Bar Association is the opportunity to present awards to the most deserving attorneys and bar leaders in our state," said Michael Terry, president of the Atlanta Bar Association. "It is a particular pleasure to present our Leadership Award to Bill Barwick. His service as both president of the Atlanta Bar Association and president of the State Bar of Georgia was exemplary. He led by example, modeling professionalism and the ideal of service, while demonstrating that it is possible to be a bar leader and an excellent practicing attorney at the same time."
"We are delighted for Bill that he has been selected for this great honor," said Woody Jameson, managing partner of the Duane Morris Atlanta office. "He continuously demonstrates exemplary service and leadership as well as a strong commitment to his practice and his clients, and we are pleased to see him recognized for that."
Barwick practices in the area of litigation, representing clients in the manufacturing and insurance industries in products liability, toxic tort and insurance coverage matters. He also represents banks and bank trust departments in fiduciary litigation. Barwick is a graduate of the University of Georgia School of Law and Amherst College.
Organized in 1888 to serve Atlanta's legal community and community-at-large, the Atlanta Bar Association is the largest voluntary bar association in the southeast, with more than 6,300 members. Its mission is to promote professionalism and the fair administration of justice in the community and to provide programs and benefits that serve its diverse membership. To attend the luncheon, please contact Stefanie Aponte at saponte@atlantabar.org or 404.832.6210.
About Duane Morris
Duane Morris LLP, a full-service law firm with more than 700 attorneys in 24 offices in the United States and internationally, offers innovative solutions to the legal and business challenges presented by today's evolving global markets.