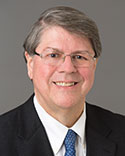 New York, June 23, 2016—Duane Morris' Richard L. Thurston, Ph.D., has been named to IAM Strategy 300 - The World's Leading IP Strategists list for the second straight year. Compiled by the U.K. publication Intellectual Asset Management (IAM), the list identifies individuals leading the way in the development and implementation of strategies that maximize the value of IP portfolios. To earn this distinction, individuals must be nominated by at least three peer IP professionals from outside of their own organizations. IAM researchers then carefully vet the nominees in an intensive, five-month selection process to determine the final list of 300 leading IP strategists.
Thurston practices in Duane Morris' Intellectual Property Practice Group. Prior to joining the firm, he was senior vice president and general counsel of Taiwan Semiconductor Manufacturing Company, Ltd., where he was also chief proprietary information officer (trade secrets) and corporate compliance officer. Thurston has experience with corporate governance and regulatory compliance; M&A; litigation; and intellectual capital management, including intellectual property and the protection of trade secrets. He also has experience with joint ventures and venture capital investments, international trade and investment, and non-legal Asia-Pacific strategic planning.
Thurston received his J.D. from Rutgers School of Law. He earned his master's degree and Ph.D. in Modern East Asian History with a minor in Chinese legal history from the University of Virginia and is a cum laude graduate of Alma College. He is fluent in Mandarin.
About Duane Morris
Duane Morris LLP provides innovative solutions to today's multifaceted legal and business challenges through the collegial and collaborative culture of its more than 750 attorneys in offices across the United States and internationally. The firm represents a broad array of clients, spanning all major practices and industries.