Duane Morris & Selvam LLP Adds Mark Wong as Director
January 13, 2017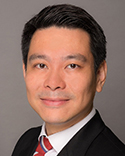 SINGAPORE, January 13, 2017—Mark Wong has joined Duane Morris & Selvam LLP as a director in the firm's Singapore office. He joins Duane Morris & Selvam from Rajah & Tann Singapore LLP.
Wong enhances the firm's corporate capabilities regionally and internationally with his broad corporate and commercial practice, which includes advising on acquisitions and dispositions, commercial contracts, joint ventures, private equity investments, corporate restructuring, construction and financing matters. He has extensive experience handling cross-border transactions—including advising and representing major companies and business groups in China, France, Singapore and other countries in Europe, Asia and Sub-Saharan Africa—across such industries as manufacturing, natural resources, power, insurance, transportation, pharmaceuticals and real estate. Prior to entering private practice, Wong was counsel at the International Chamber of Commerce International Court of Arbitration in Paris.
"Mark will be an excellent addition to our global Corporate and Energy practices," said Leon Yee, head of Duane Morris & Selvam's Banking & Finance and Energy Law Practice Groups. "He is a well-rounded lawyer with strong technical experience in various practice areas. We anticipate increased corporate activity in Southeast Asia, the People's Republic of China and Myanmar across a range of sectors, and we are committed to continue investing in this region."
With law and economic degrees from the UK, France and Singapore, Wong is admitted as an advocate and solicitor of the Supreme Court of Singapore and as an avocat of the Court of Appeal of Paris. He is fluent in English, French, Mandarin and Cantonese.
About Duane Morris & Selvam LLP
Duane Morris & Selvam LLP is the joint law venture of international law firm Duane Morris LLP and Singapore-based Selvam LLC, with headquarters in Singapore. It serves clients throughout Asia, as well as companies based in the Americas and Europe that are conducting business in Asia and Asian entities and individuals doing business in the Americas and the United Kingdom.
About Duane Morris
Duane Morris LLP provides innovative solutions to today's multifaceted legal and business challenges through the collegial and collaborative culture of its more than 750 attorneys in offices across the United States and internationally. The firm represents a broad array of clients, spanning all major practices and industries. Throughout its more than 110-year history, Duane Morris has fostered a collegial culture, where lawyers collaborate to best serve their clients.