Duane Morris Welcomes State and Local Tax Partner Lauren A. Ferrante in Chicago
January 4, 2021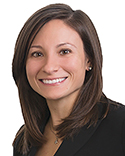 Lauren Ferrante
CHICAGO, January 4, 2021—Lauren A. Ferrante has joined Duane Morris LLP as a partner in the Corporate Practice Group in the firm's Chicago office. Ferrante offers experience representing clients in state and local tax (SALT) controversies and planning matters. Prior to joining Duane Morris, she was a partner in McDermott Will & Emery LLP's SALT Practice.
"We're excited to welcome Lauren to the firm," said Matthew A. Taylor, CEO and Chairman of Duane Morris. "She is an accomplished attorney and her arrival is the perfect kickoff to a year where we plan continued action on our strategic growth objectives, which include providing best-in-class service to our clients and expanding our footprint in key markets."
"Lauren has a strong skillset in state and local tax law, as well as extensive tax litigation and transactional experience," said Brian P. Kerwin, chair of the firm's Corporate Practice Group. "Her talents and experience will be a great addition to our corporate team."
"Lauren is not only an adept practitioner, but also a terrific personality match for our Chicago office," said John Robert Weiss, managing partner of the Duane Morris Chicago office. "We're thrilled to welcome her to the team."
"I'm looking forward to growing my career at Duane Morris," Ferrante said. "The vision for the firm in the Strategic Plan that Matt Taylor, Brian Kerwin and everyone in management laid out for me matches the level of commitment and purpose I aim to bring to my own practice."
Ferrante represents taxpayers with respect to multi-state and local tax issues, including at all stages of controversy disputes at the audit, administrative and judicial levels. She has extensive experience defending clients against tax claims brought under state false claims acts. Ferrante also assists taxpayers with SALT planning, transactional and compliance matters. She is a frequent writer and speaker on SALT issues and former chair of the Chicago Bar Association's State and Local Tax Committee.
Ferrante is a graduate of Northwestern University School of Law (LL.M. in Taxation, with Honors, 2010), the University of Illinois College of Law (J.D., magna cum laude, 2009) and Miami University (B.A., magna cum laude, 2006).
About Duane Morris
Duane Morris LLP provides innovative solutions to today's multifaceted legal and business challenges through the collegial and collaborative culture of its more than 800 attorneys in offices across the United States and internationally. The firm represents a broad array of clients, spanning all major practices and industries.