Duane Morris Welcomes Trial Partner Vijay K. Bange in London
April 1, 2020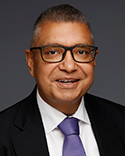 Vijay K. Bange
LONDON, 1 April 2020—Duane Morris LLP announced today that Vijay K. Bange has joined as a partner in the Construction Division of the firm's Trial Practice Group in the London office. Prior to joining Duane Morris, Bange was a partner at Trowers & Hamlins LLP.
"We're excited to welcome Vijay to the firm," said Matthew A. Taylor, CEO and Chairman of Duane Morris. "He is a great addition to our expanding London office and growing international construction group."
"Vijay is a great match for our practice," said Mark A. Canizio, chair of the Construction Group. "His skills and experience—along with those of Steve Nichol, who joined us a few months ago, are a great foundation to build our international practice to better serve our clients."
"We're thrilled to be growing our office with top-notch lawyers like Vijay who will be leading the London construction team," said London office managing partner Susan A. Laws. "He will be a great fit for our office and the firm as a whole."
Bange's practice focuses on construction and engineering, with experience in both domestic and international disputes. He has experience in dealing with construction and engineering disputes of varying sizes and complexity, both in arbitration proceedings and those in the Technology and Construction Court (TCC). Bange undertakes a diverse range of work, including advisory, dispute avoidance and contractual interpretation. Further, his experience extends to all forms of ADR processes to include mediation and expert determination. Bange's experience includes advising in relation to large international infrastructure projects, including numerous airport, road, harbour and wind farm schemes.
About Duane Morris
Duane Morris provides innovative solutions to today's multifaceted legal and business challenges through the collegial and collaborative culture of its more than 800 attorneys in offices across the United States and internationally. The firm represents a broad array of clients, spanning all major practices and industries.