January 14, 2022— Duane Morris Chairman Matt Taylor shared the following message today with members of the Firm:
On Monday, Duane Morris joins the rest of our nation in commemorating the remarkable life and work of Dr. Martin Luther King, Jr. His lifelong effort to dismantle the crippling impact of structural racism is, and continues to be, an inspiration to us all.
When I think of Dr. King, I am reminded of two important truths. The first is how much this brilliant and courageous man accomplished in such a short time on this earth. A child prodigy, he entered Morehouse College at 15, graduating at age 19. He earned a second degree at 22 from Crozier Theological Seminary in Upland, Pa. and was awarded his PhD in 1955 from Boston University at age 26.
From Montgomery, to Birmingham, to Selma, to the steps of the Lincoln Memorial, Dr. King led strategic, non-violent protests that changed the world and earned him a Nobel Peace Prize in life, and a memorial on the National Mall in death.
Secondly, I am struck by the fact that when the Montgomery Bus Boycott thrust Dr. King onto the world stage in 1955, at his side was another 26-year old, his trusted legal counsel Fred Gray. Fred represented both Dr. King and Rosa Parks, took the case all the way to the U.S. Supreme Court and won. He would go on to successfully represent Dr. King in many other matters, including acquitting him in a jury trial before an all-white Alabama jury in 1960. He also handled many other landmark civil rights cases.
Duane Morris is proud of having honored the legacy of Dr. King by hosting Fred Gray for a special town hall lecture and book signing in 2019. His presence reminds us now, as it did then, that Dr. King's legacy lives on; that it touches every single one of us regardless of race, gender or disability status; and that we are each guardians of the work Dr. King lived for. We are duty bound to remember what was lost when he was assassinated in 1968 at the age of 39. Please take time this weekend and on Monday to reflect upon Dr. King's life, work and legacy.
Fred Gray (left) responds to a question from Duane Morris Partner and Chief Diversity and Inclusion Officer Joseph K. West (right).
Fred Gray shares stories about his landmark victories during the civil rights movement.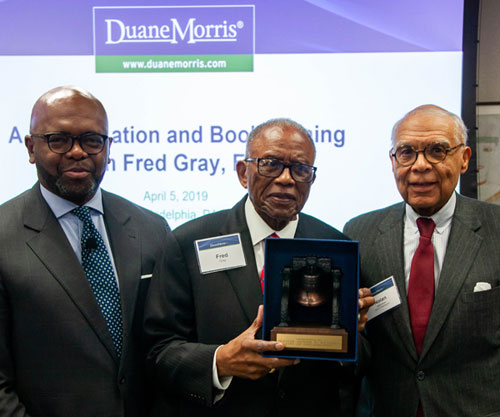 Fred Gray (center) stands with Duane Morris Partner and Chief Diversity and Inclusion Officer Joseph K. West (left) and Nolan N. Atkinson, Jr., the City of Philadelphia's first chief diversity and inclusion officer and former Duane Morris chief diversity and inclusion officer.