Duane Morris Partner Hugh T. McCormick Receives Lexology/International Law Office 2016 Client Choice Insurance Award for New York
February 17, 2016

Will Speak at Two Upcoming Insurance Conferences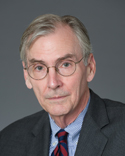 NEW YORK, February 17, 2016—Duane Morris LLP is pleased to announce that Hugh T. McCormick, a partner in the firm's New York office, is the recipient of the Lexology/International Law Office (ILO) 2016 Client Choice Award for Insurance and Reinsurance (New York). The Client Choice awards recognize partners for their ability to add real value to clients' business, above and beyond other attorneys in their industry. Partners can only be nominated for the award by corporate counsel. Winners were selected based upon independent research conducted by Lexology and ILO. Clients were asked to rate a pool of more than 2,000 candidates on a range of client service criteria, including overall quality of legal advice, commercial awareness, effective communication and sharing of expertise.
McCormick also will be speaking at two upcoming insurance industry conferences in New York. On February 29–March 1, 2016, he will participate in American Conference Institute's 11th National Forum on Insurance Regulation. His panel will discuss updates on reduced reinsurance collateral requirements and covered agreements. McCormick will present at the American Conference Institute's 4th Annual Advanced Forum on Captive Insurance on May 2–3, 2016. His session will cover XXX/AXXX reinsurance captives, the NAIC's accreditation standards and principle-based reserving.
McCormick advises domestic and international insurance and reinsurance companies, as well as other participants in the insurance industry on regulatory, corporate and tax matters arising in connection with mergers and acquisitions, reinsurance transactions, restructurings and financing transactions, including insurance financing transactions utilizing captive reinsurers. Legal 500 United States notes that "Clients recommend New York's Hugh McCormick who is 'professional and approachable' with 'deep life insurance knowledge, experience and expertise.'"
McCormick has an LL.M. in taxation from Georgetown University (1980), a J.D. from Rutgers University School of Law, Newark (1977) and a B.A. from the University of Michigan (1968). McCormick is a co-author of Insurance Industry Mergers & Acquisitions (Society of Actuaries, 2005) and International Life Insurance (Chancellor Publications (U.K.), 2003).
About Duane Morris
Duane Morris LLP, a law firm with more than 750 attorneys in offices across the United States and internationally, is asked by a broad array of clients to provide innovative solutions to today's legal and business challenges.