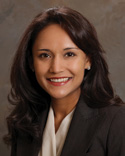 LAS VEGAS, February 5, 2015—Duane Morris LLP is pleased to announce that Manita Rawat, a partner in the firm's Las Vegas office, has been chosen as a member of the Leadership Council on Legal Diversity's (LCLD) 2015 class of Fellows. This landmark program identifies, trains and advances the next generation of leaders in the legal profession.
"This is a singular honor for Manita," said Duane Morris Chief Diversity & Inclusion Officer Nolan N. Atkinson, Jr. "She joins a select group of experienced attorneys from diverse backgrounds who have been recognized for their potential as leaders in their organizations."
According to LCLD President Robert J. Grey, Jr., the LCLD Fellows Program offers participants "an extraordinarily rich year of relationship-building, virtual and in-person training, peer-group projects and extensive contact with LCLD's top leadership."
Founded in 2009, LCLD is an organization of more than 220 corporate chief legal officers and law firm managing partners who are personally committed to creating a truly diverse legal profession. The LCLD Fellows Program, which has trained more than 600 mid-career attorneys since 2011, is one of the organization's most important initiatives. For more information, please visit www.lcldnet.org.
About Duane Morris
Duane Morris LLP, a law firm with more than 700 attorneys in offices across the United States and internationally, is asked by a broad array of clients to provide innovative solutions to today's legal and business challenges.