Duane Morris Attorney Michael E. Clark Appointed as Founding Member of the National Board of Health Lawyers
March 15, 2017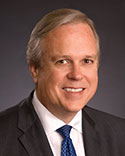 HOUSTON, March 15, 2017—Duane Morris LLP attorney Michael E. Clark has been appointed by the American Bar Association (ABA) Health Law Section as one of 10 attorneys on the inaugural National Board of Health Lawyers. The board was formed to develop a national specialty certification program for lawyers representing clients across the healthcare industry. The organization will operate as a division of the National Board of Trial Advocacy, which is accredited by the ABA as a board-certifying agency.
Clark is a litigator with wide variety of experience, including matters with various regulatory agencies, and contract disputes including Deceptive Trade Practices Act (DTPA), complex fraud (including violations of the False Claims Act), environmental, securities law and financial fraud allegations. He has been lead counsel in more than 100 jury trials and has handled dozens of appeals. In addition to his trial work, Clark has counseled clients, including healthcare providers, insurers and financial institutions, and has conducted internal investigations and advised on regulatory compliance and corporate governance matters. Clark is a trained health law arbitrator by the American Health Lawyers Association.
Clark is a past chair of the ABA's Section of Health Law and the ABA Section of Business Law's White Collar Crime Committee. He co-chairs and serves on the planning committees for the National Institute on Corporate Internal Investigations, the National False Claims Trial Institute and the Medical Device Institute. Clark authors and presents on regulatory issues, such as antitrust, cybersecurity, corporate compliance and governance, ethics, internal investigations, pharmaceutical law, securities law and white-collar defense issues. As an adjunct law professor at the Health Law & Policy Institute at the University of Houston Law Center, he has taught on food and drug law, civil and criminal trial advocacy, healthcare and antitrust, and the regulation of biomedical research. In addition, he has taught pharmaceutical fraud and abuse at the College of Pharmacy for the University of Florida. He is also a faculty instructor for the National Institute for Trial Advocacy.
Clark received his J.D. from the South Texas College of Law and LL.M. in health law and LL.M. in tax from the University of Houston Law Center. He is also a graduate of the University of Texas at Arlington.
About Duane Morris
Duane Morris LLP provides innovative solutions to today's multifaceted legal and business challenges through the collegial and collaborative culture of its more than 750 attorneys in offices across the United States and internationally. The firm represents a broad array of clients, spanning all major practices and industries.