Duane Morris Special Counsel Michael E. Clark to Receive Kristi Couvillon Pro Bono Award from Texas Civil Rights Project
September 10, 2014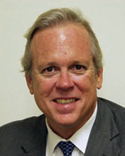 HOUSTON, September 10, 2014—Duane Morris LLP special counsel Michael E. Clark, based in the firm's Houston office, will receive the 2014 Kristi Couvillon Pro Bono Award from the Texas Civil Rights Project (TCRP). Clark is slated to accept the honor at the organization's annual Bill of Rights Dinner on November 1 in Austin.
The award recognizes the pro bono efforts of legal teams that secured a $77,500 settlement earlier this year for a 16-year-old high school student in a privacy rights case in eastern Texas. The student, a member of her school's softball team, alleged that coaches held her in a locker room and threatened to remove her from the team if she did not admit she was dating another girl. They then "outed" her to her mother against her will and removed her from the team. In addition to the monetary award, the settlement required the school district to hold training sessions on sexual orientation and privacy policies, as well as to update its student/teacher handbook to include specific language about the district's anti-discrimination policy relating to sexual orientation. Clark played a significant role by crafting the plaintiff's appellate brief.
TCRP promotes racial, social and economic justice through litigation, education and social services. It strives to foster equality, secure justice, ensure diversity and strengthen low- and moderate-income communities in Texas.
Clark's litigation practice focuses on the areas of healthcare law, white-collar defense and securities and financial fraud. He has counseled clients, including healthcare providers, insurers and financial institutions, and has conducted internal investigations and advised on compliance and corporate governance matters. He has been recognized in health law by Best Lawyers, Corporate Counsel magazine and Texas Super Lawyers. He is editor-in-chief of Pharmaceutical Law: Regulation of Research, Development, and Marketing (BNA 2007). In addition, he is an adjunct professor of law at the University of Houston Law Center, where he has taught antitrust, health, and food and drug law, as well as trial advocacy. He also serves as an adjunct professor at the University of Florida's College of Pharmacy, focusing on pharmaceutical fraud and abuse.
Clark earned his law degree from the South Texas College of Law and also holds an LL.M. in Health Law and an LL.M. in Tax from the University of Houston Law Center. He is a graduate of the University of Texas at Arlington.
About Duane Morris
Duane Morris LLP, a law firm with more than 700 attorneys in offices across the United States and internationally, is asked by a broad array of clients to provide innovative solutions to today's legal and business challenges.