The Recorder Names Duane Morris Partner Karineh Khachatourian Among Women Leaders in Tech Law
July 31, 2013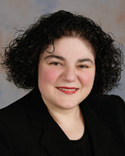 PALO ALTO, July 31, 2013—Duane Morris LLP is pleased to announce that partner Karineh Khachatourian, the managing partner of the firm's Silicon Valley office, has been named to the third annual "Women Leaders in Tech Law" listing. Published by The Recorder, the list recognizes 50 women lawyers who have demonstrated leadership and knowledge in solving the most pressing legal concerns facing technology companies. The publication will honor the winners at a September 25 reception.
Khachatourian is deeply involved with Silicon Valley networking organizations, particularly those that help to advance women in the profession. She is an advisory board member of IP Counsel Café; chair of the Strategic Development Board and co-lead of General Counsel Network for Watermark, a group for executive women who have risen to the top of their fields; a partner with Leading Women in Technology as well as with Chips, an organization that advances women in IP law; and the co-founder of Salonnières, a social organization for women professionals. She was recently profiled on the Watermark blog for her leadership in advancing women in IP and the legal professional generally. Khachatourian was a recipient of the 2012 Watermark Women Who Have Made Their Mark Award. In March 2013, she was also recognized as one of the Silicon Valley Business Journal's 2013 Women of Influence.
Khachatourian focuses her practice in the area of intellectual property litigation. She represents high-tech clients in patent, trade secret, trademark and related commercial litigation and counsels clients in the area of IP enforcement. Khachatourian's technology focus includes computer hardware and software, with an emphasis on encryption technology, related consumer electronics and computer peripherals, and video gaming technology. Her work includes high-technology and design patent infringement and licensing disputes; inventorship and ownership issues; trade secret misappropriation, particularly with competitors and departing employees; and trademark infringement issues. She has also represented clients in the semiconductor, information technology, social media and enterprise cloud computing spaces.
Duane Morris opened its office in Palo Alto in 2013 with Khachatourian at the helm to provide more efficient and direct service to clients throughout Silicon Valley and to enhance its capabilities in California and nationally. A global high-technology hub and home to many of the world's most successful and innovative companies, Silicon Valley is a natural fit for Duane Morris' strengths in patent litigation and patent prosecution, trademarks and copyrights, venture capital, private equity and related commercial litigation. Duane Morris attorneys from its five California offices, and elsewhere throughout the world, work extensively with high-tech clients and bring a broad base of experience and relationships with businesses and professionals in the valley.
About Duane Morris
Duane Morris LLP, a law firm with more than 700 attorneys in offices across the United States and internationally, is asked by a broad array of clients to provide innovative solutions to today's legal and business challenges.