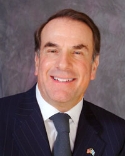 PHILADELPHIA, April 25, 2017—Duane Morris partner Steven L. Friedman has been appointed to the Thomas Jefferson University and Jefferson Health Board of Presidential Advisors by Jefferson President and CEO Stephen Klasko. Friedman will serve a three-year term. The 13-member board comprises a number of distinguished leaders across multiple industries and is chaired by former governor of Pennsylvania Edward G. Rendell. Advisory board members offer advice and guidance to Klasko, connect Jefferson's leaders to philanthropic, business, venture and partnership opportunities, and serve as high-level ambassadors for the institution.
Friedman practices in the area of corporate and commercial litigation. He has handled matters involving trade secrets, antitrust, securities, trademark and patent infringement, including ANDA and Hatch-Waxman, RICO, class action and corporate control and takeover/proxy fights, and breach of contract. Friedman has appeared before federal and state courts throughout the United States.
Friedman is a 1971 graduate of the University of Pennsylvania Law School and a cum laude graduate of Yale University. He has extensive involvement in business and political activities in Israel. Friedman serves as a legal and personal adviser to Prime Minister Benjamin Netanyahu and has served as general counsel to the Likud Party of Israel in the United States.
About Duane Morris
Duane Morris LLP provides innovative solutions to today's multifaceted legal and business challenges through the collegial and collaborative culture of its more than 750 attorneys in offices across the United States and internationally. The firm represents a broad array of clients, spanning all major practices and industries.