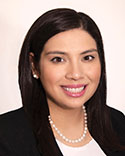 Theresa A. Langschultz
PHILADELPHIA, April 10, 2019—Duane Morris LLP associate Theresa A. Langschultz has been named to The Legal Intelligencer's 2019 Pennsylvania Lawyers on the Fast Track list. Langschultz is one of an elite group of Fast Track recipients that will be profiled in a special supplement in the June 11 issue.
Nominees were evaluated by a panel composed of members of the Pennsylvania legal community from across the state. Candidates were then selected based on their advancement of law, representative client engagements, advocacy and community contributions, service to the bar, and peer and public recognitions.
Langschultz is a trial attorney focusing on products liability, commercial and appellate litigation. Langschultz is a solutions-oriented advocate who regularly handles Federal Employers' Liability Act actions, significant third-party personal injury claims and premises-liability actions. She also has experience representing clients in commercial disputes and antitrust matters. Langschultz represents clients at all phases of litigation, including investigation, motion practice, discovery, pre-trial negotiations, trial and appeal.
Langschultz was recently honored for her extensive pro bono work with the Philadelphia Bar Association's Large Firm Management Committee (LFMC) Public Service Award. The award annually honors two young lawyers in the city of Philadelphia for their exceptional pro bono or public service work. She is also a recent recipient of the American Bar Association's Young Lawyers' Division Child Advocacy Award, which honors one young lawyer and one seasoned lawyer nationally for their dedicated service on behalf of children. Prior to joining Duane Morris, she interned with a judge of the Court of Common Pleas of Philadelphia County, and both a magistrate judge and judge of the U.S. District Court for the Eastern District of Pennsylvania.
Langschultz is a 2015 cum laude graduate of Temple University Beasley School of Law, where she was the articles and symposium editor of the Temple Law Review, and a graduate of the University of Pennsylvania (M.S.) and Northeastern University (B.A., magna cum laude). Before attending law school, she was a middle school math teacher with Teach for America.
An awards dinner will be held at the Crystal Tea Room on June 27 in Philadelphia.
About Duane Morris
Duane Morris LLP provides innovative solutions to today's multifaceted legal and business challenges through the collegial and collaborative culture of its more than 800 attorneys in offices across the United States and internationally. The firm represents a broad array of clients, spanning all major practices and industries.