Home > About Duane Morris > Accolades, Recognition and Honors
Duane Morris Leadership Award
Duane Morris Supports Leaders in Our Communities
Donation Helps Build School for Girls in Sudan
Duane Morris presents the Leadership Award to individuals dedicated to providing a powerful, positive influence on local and global communities. In addition to recognizing outstanding community service and leadership, Duane Morris also contributes financially to these individuals' ongoing projects. In 2007, the firm's Boston office presented the inaugural Leadership Award to Rev. Gloria White-Hammond, M.D., for her outstanding contributions in Boston and southern Sudan.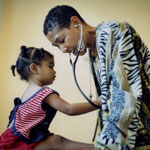 White-Hammond, an inner-city pediatrician and co-pastor of the Bethel A.M.E. Church in Boston, works both locally, providing mentoring services to at-risk girls, and globally, leading efforts to eradicate slavery and genocide in Sudan. Her program, My Sister's Keeper, helps assist and educate formerly enslaved Sudanese women and children. My Sister's Keeper provides grinding mills to villages in Sudan, supports a school for girls, trains healthcare workers and provides medical supplies to Sudanese clinics. White-Hammond's program has raised local and national awareness of the urgent need to stop the genocide in Darfur and establish peace in the area.
As part of the award, Duane Morris is donating $25,000 to My Sister's Keeper. The nonprofit group will use the money to help build a school for girls in the village of Akon.
The Duane Morris Leadership Award and charitable contribution will be given annually to a worthy and recognized leader in one of Duane Morris' cities who has demonstrated initiative and dedication to achieving change and, like White-Hammond, has achieved positive results. Diversity is a strongly weighted consideration in the selection process.
For more information on Gloria White-Hammond and her work, please visit http://www.mskeeper.org.