Home > About Duane Morris > Accolades, Recognition and Honors
Duane Morris Leadership Award
Duane Morris Honors San Francisco Bay Area Community Leader and Environmental Entrepreneur with 2009 Duane Morris Leadership Award
The Duane Morris Leadership Award is awarded annually to a community leader who epitomizes the firm's core values of community involvement and has achieved positive results.
In 2009, Duane Morris presented the Duane Morris Leadership Award to Michele McGeoy, founder and executive director of California-based Solar Richmond.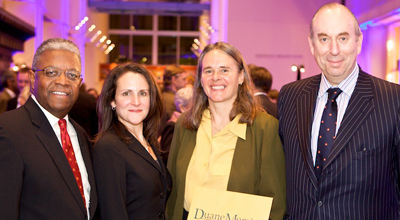 Duane Morris San Francisco Managing Partner Joseph Burton, Duane Morris Pro Bono Counsel Nicole Friant, Solar Richmond Executive Director and Duane Morris 2009 Leadership Award Recipient Michele McGeoy, and Duane Morris Chairman John Soroko
Solar Richmond is a non-profit organization McGeoy founded in 2006 to serve the community through green-collar job training and placement in solar photovoltaic technology and solar thermal. Solar Richmond works closely with diverse partners in city government, the non-profit world and local businesses, in order to foster a green economy in Richmond and bring good, green jobs to its residents. Since its inception, the program has completed several installations throughout the Bay Area and boasts a 91-percent job placement rate, with many graduates of the program attaining green-collar jobs. It has also served as a model for addressing both the local concerns of violence reduction, youth investment and infrastructure investment and the global concern of climate change.
For more information on Michele McGeoy and her work, please visit http://solarrichmond.org/.