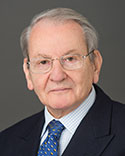 Thomas R. Newman
The general rule is that only parties to an action or proceeding—and only parties who are "aggrieved"—may appeal, either as of right or by permission, from an appealable judgment or order. CPLR 5511 codifies this rule by providing that "an aggrieved party or a person substituted for him may appeal from any appealable judgment or order except one entered upon the default of the aggrieved party. He shall be designated as the appellant and the adverse party as the respondent."
The "party aggrieved" requirement is jurisdictional and subject to inquiry by the court on its own motion even if the respondent has not raised the issue. In Matter of Niagara Mohawk Power v. Green Island Power Authority, 94 N.Y.2d 891 (2000), for example, the appeals were dismissed "by the Court of Appeals, sua sponte, upon the ground that appellants are not parties aggrieved."
CPLR 5511 does not define the term "aggrievement"; the interpretation of this term has been left to case law. The leading case of Parochial Bus Systems v. Board of Education of City of New York, 60 N.Y.2d 539, 544-45 (1983) (citations omitted), provides a useful starting point for determining whether a party is aggrieved by a judgment or order for purposes of standing to appeal:
Generally, the party who has successfully obtained a judgment or order in his favor is not aggrieved by it, and, consequently, has no need and, in fact, no right to appeal. The major exception to this general rule, however, is that the successful party may appeal or cross-appeal from a judgment or order in his favor if he is nevertheless prejudiced because it does not grant him complete relief. This exception would include those situations in which the successful party received an award less favorable than he sought or a judgment which denied him some affirmative claim or substantial right. But where the successful party has obtained the full relief sought, he has no grounds for appeal or cross appeal. This is so even where that party disagrees with the particular findings, rationale or the opinion supporting the judgment or order below in his favor, or where he failed to prevail on all the issues that had been raised.
Courts have construed Parochial Bus to mean that "the concept of aggrievement is about whether relief was granted or withheld, and not about the reasons therefor." See Mixon v. TBV, 76 A.D.3d 144, 149 (2d Dept., 2010). Thus, "a person is aggrieved within the meaning of CPLR 5511 when he or she asks for relief but that relief is denied in whole or in part, or when someone asks for relief against him or her, which the person opposed, and the relief is granted in whole or in part." See Daviotis v. Kappa Services, 161 A.D.3d 722 (2d Dept., 2018).
Disposition in Appellant's Favor
As noted, a prevailing party who has been granted the full relief sought is not aggrieved and has no right of appeal. The fact that a judgment or order "may contain language or reasoning which [the prevailing parties] deem adverse to their interests does not furnish them with a basis for standing to take an appeal," see Olney v. Town of Barrington, ___ A.D.3d ___, 2018 WL 3007538, at *1 (4th Dept., June 15, 2018), citing Pennsylvania General Insurance v. Austin Powder, 68 N.Y.2d 465, 472-73 (1986). "The major exception to this general rule, however, is that the successful party may appeal or cross-appeal from a judgment or order in his favor if he is nevertheless prejudiced because it does not grant him complete relief." See Mixon, 76 A.D.3d at 148, citing Norton & Siegel v. Nolan, 276 N.Y. 392 (1938).
A prevailing party may, however, raise an alternative ground for affirmance in opposition to the losing party's appeal. Under CPLR 5501(a)(1), "an appeal from a final judgment brings up for review * * * any nonfinal judgment or order which necessarily affects the final judgment, including any which was adverse to the respondent on appeal from the final judgment and which, if reversed, would entitle the respondent to prevail in whole or in part on that appeal, provided that such nonfinal judgment or order has not previously been reviewed by the court to which the appeal is taken." "Hence, the successful party, who is not aggrieved by the judgment or order appealed from and who, therefore, has no right to bring an appeal, is entitled to raise an error made below, for review by the appellate court, as long as that error has been properly preserved and would, if corrected, support a judgment in his favor."
A plaintiff is not aggrieved by an order that denied the defendants' motion for summary judgment dismissing the complaint based on spoliation of evidence and imposed the lesser sanction of an adverse inference charge, as requested by the plaintiff in opposition to the defendants' motion. See Hernstat v. Anthony's Windows on Lake, ___ A.D.3d ___, 2018 WL 2945717, at *1 (2d Dept., June 13, 2018). Conversely, "a party is not aggrieved by an order which does not grant relief that the party did not request." See Calverton Manor v. Town of Riverhead, 160 A.D.3d 838 (2d Dept., 2018) (citations omitted). Consistent with this rule, a party who simply opposes an adverse party's motion for summary judgment, without cross moving for the same relief, is not aggrieved by an order declining to search the record and sua sponte award the nonmoving party summary judgment.
Appeals by Nonparties
Although CPLR 5511 speaks in terms of an "aggrieved party," courts have nevertheless recognized a nonparty's right in certain circumstances to appeal from a judgment or order that directly affects its interests. The test is "whether the person seeking to appeal has a direct interest in the controversy which is affected by the result and whether the adjudication has a binding force against the rights, person or property of the party or person seeking to appeal." See In re Matthew L., 6 A.D.3d 712, 713 (2d Dept., 2004).
For example, courts have permitted a nonparty to appeal from an order directing it to produce documents pursuant to a subpoena (e.g., Brady v. Ottaway Newspapers, 97 A.D.2d 451 [2d Dept., 1983], aff'd, 63 N.Y.2d 1031 [1984]), denying a nonparty's motion to intervene in an action (e.g., Wagner & Stoll v. City of Schenectady, 107 A.D.3d 1225, 1227 [3d Dept., 2013]), expressly binding a nonparty to the terms of an injunction (e.g., Stewart v. Stewart, 118 A.D.2d 455, 458 [1st Dept., 1986]), or sanctioning a nonparty (e.g., Saastomoinen v. Pagano, 278 A.D.2d 218 [2d Dept., 2000]).
Effect of Default
As expressly stated in CPLR 5511, an aggrieved party may not appeal from a judgment or order "entered upon the default of [that] party." Instead, the proper procedure is for the defaulting party to move to vacate the default pursuant to CPLR 5015(a)(1) ("Relief from judgment or order"), and in the event of the denial of that motion, to appeal from the resultant order. See M & C Bros. v. Torum, 75 A.D.3d 869, 870 (3d Dept., 2010). An exception to this rule has been recognized where the default judgment arises from a contested motion under CPLR 3215 or under CPLR 3126 for failure to comply with a discovery order, see also Cole-Hatchard v. Eggers, 132 A.D.3d 718, 719 (2d Dept., 2015). Such judgment is directly appealable, provided again that the appellant appeared and opposed the motion.
Similarly, "no appeal lies from an order entered upon the consent of the appealing party, since a party who consents to an order is not aggrieved thereby." See Nakas v. Nakas, 159 A.D.3d 908, 910 (1st Dept., 2018). A party who stipulates to modification of a damage award in lieu of a new trial—the remittitur and additur procedures—is therefore not aggrieved by that modification and may not appeal from it. See Dudley v. Perkins, 235 N.Y. 448, 457 (1923). If the adverse party appeals from the judgment on unrelated issues, however, CPLR 5501(a)(5) confers jurisdiction on the Appellate Division to review the appropriateness of the remittitur or additur and to reinstate part or all of the original damage award. By the same token, a party who stipulates to modification of a damage award may seek appellate review of other unrelated issues in the case such as liability issues. Thus, in Adams v. Genie Industries, 14 N.Y.3d 353 (2010), the Court of Appeals reviewed issues relating to the defendant's liability despite its stipulation to an additur at the Appellate Division level.
The lesson that emerges is that, in all but the most obvious instances of "aggrievement," counsel must consult the case law interpreting the term to ensure that this threshold jurisdictional requirement has been met.
Thomas R. Newman is of counsel to Duane Morris and author of "New York Appellate Practice" (Matthew Bender). Steven J. Ahmuty Jr. is a partner at Shaub, Ahmuty, Citrin & Spratt. They are members of the American Academy of Appellate Lawyers.
Reprinted with permission from New York Law Journal, © ALM Media Properties LLC. All rights reserved.