Pro Bono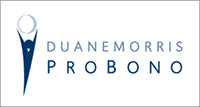 The goal of Duane Morris' pro bono program is to provide free legal services to those in our communities least able to afford legal services, and usually to those who have a dire need of such services. Accordingly, the focus of our pro bono work is providing quality legal services to individuals and organizations that serve the community: (i) through provision of services to low-income individuals; (ii) by furthering economic development in low-income areas; or (iii) by pursuing other charitable endeavors.
We are proud of the thousands of pro bono hours of legal service donated by Duane Morris attorneys and of the against-all-odds accomplishments of our clients. Our representation of often-marginalized groups, such as survivors of trafficking and domestic violence, has made us a stronger and more compassionate Firm. Working with immigrant children fleeing violence in Central America has reminded us of the freedom and security we often take for granted and reinvigorated our commitment to the rule of law. Representing community-based organizations has strengthened the communities where we live and practice and expanded our networks. And for our highest calling, serving those who served us first, we are grateful for the opportunity to recognize the sacrifices of our veterans with a small token of appreciation in the form of assisting them with disability appeals, discharge upgrades and general civil legal matters.
Pro bono service has been an integral part of Firm culture and a backbone of our value system since the Firm's founding more than 110 years ago. Today, the Firm gives all associates and special counsel 100 hours of credit annually and partners 50 hours of billable credit annually for their pro bono service. We have signed on to the Pro Bono Institute's Law Firm Pro Bono Challenge, striving to provide at least 3 percent of the Firm's billable hours to pro bono matters. We also provide extensive pro bono service in all 20 of our U.S. offices and many of our international offices, including London, Singapore and Myanmar. We have a dedicated three-person pro bono team that is responsible for recruiting pro bono opportunities and managing more than 500 matters, which range from U.S. Supreme Court amicus briefs and federal litigation, to local landlord tenant court and citizenship applications. This year, we added a social worker to the management team to help with unique program development and community outreach.
For more information about the Pro Bono Program, please contact Valentine A. Brown or Katharyn I. Christian McGee.
American Bar Association (ABA) Business Law Section 2018 National Public Service Award
Duane Morris has been honored with the American Bar Association's Business Law Section 2018 National Public Service Award, which recognizes significant pro bono legal services that demonstrate a commitment to providing assistance to the poor in a business context, as well as the achievements resulting from the public service work for the clients and the client groups represented.
2017 Duane Morris Pro Bono Award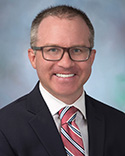 Christopher J. Tyson
Associate, Intellectual Property Practice Group | Washington, D.C. Office
The award honors the outstanding service of any attorney or group that exemplifies Duane Morris' commitment to pro bono service and has made a significant impact on an individual or community.
2017 Duane Morris Pro Bono Leadership Award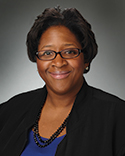 Lisa T. Scruggs
Partner, Trial Practice Group | Chicago Office
The award recognizes an attorney who exemplifies the spirit of pro bono: a selfless, longstanding and unwavering commitment to pro bono service; a leader by example, who accepts pro bono matters without fanfare; and a pro bono contributor who encourages and mentors other firm attorneys in pro bono service.
The Veterans Consortium 2017 Law Firm Pro Bono Mission Partner
Duane Morris has been named The Veterans Consortium Pro Bono Program (TVC) 2017 Law Firm Pro Bono Mission Partner for its service to veterans and their families, caregivers and survivors. Duane Morris has worked with TVC for many years, providing pro bono representation to veterans at the U.S. Court of Appeals for Veterans Claims. In the fall of 2016, the firm worked with TVC and Neighborhood Legal Services Program (NLSP) to implement pop-up legal clinics at Veterans Affairs (VA) facilities in the D.C. Metro area, providing free advice to more than 200 veterans.
Outward Bound Center for Peacebuilding: 2017 Partner in Peace Award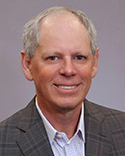 Outward Bound Center for Peacebuilding (OBCP) uses experiential education to challenge and inspire emerging leaders in divided societies to work together to build peace. Duane Morris helped OBCP establish as a not-for-profit entity in 2007 and has provided ongoing pro bono legal representation ever since. OBCP honored Michael D. Schwamm, a partner in the Corporate Practice Group, for his long-standing representation of the organization in a variety of matters.
2016 Duane Morris Pro Bono Award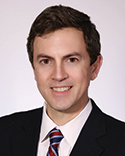 Luke P. McLoughlin
Associate, Trial Practice Group | Philadelphia Office
The award honors the outstanding service of any attorney or group that exemplifies Duane Morris' commitment to pro bono service and has made a significant impact on an individual or community.
2016 Duane Morris Pro Bono Leadership Award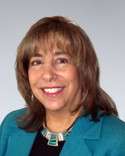 Denyse Sabagh
Partner, Employment, Labor, Benefits & Immigration; Chair, Immigration Practice Group | Washington, D.C. Office
The award recognizes an attorney who exemplifies the spirit of pro bono: a selfless, longstanding and unwavering commitment to pro bono service; a leader by example, who accepts pro bono matters without fanfare; and a pro bono contributor who encourages and mentors other firm attorneys in pro bono service.
Legal Clinic for the Disabled
Duane Morris is a recipient of The White Hat Award from the Legal Clinic for the Disabled (LCD). The White Hat Award recognizes individuals and organizations that have done outstanding work for LCD and its clients. The Legal Clinic for the Disabled (LCD) provides free legal services to low-income people with physical disabilities and to the deaf and hard of hearing.
City Bar Justice Center
Arthur Dresner (New York) received the City Bar Justice Center's 2016 Jeremy G. Epstein Award for Outstanding Pro Bono Service. Nominated by our pro bono client, the Neighborhood Entrepreneur Law Project (NELP), Arthur has assisted numerous start-up entrepreneurs with establishing brand distinctions, including trade-name and trademark guidance, as well as trademark registrations at the United States Patent and Trademark Office. NELP was established in 2003 by the City Bar Justice Center to provide low- to moderate-income microentrepreneurs with the legal services necessary to start their businesses on a secure foundation.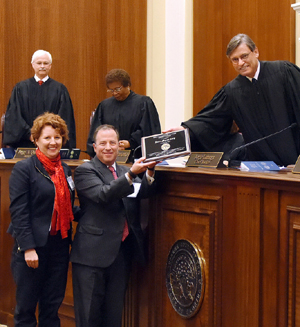 Valentine Brown and Harvey Gurland accepting the
Law Firm Commendation Pro Bono Service Award
D.C. Mayor's Office for Veteran's Affairs Commendation
Chris Tyson (Washington, D.C.) was celebrated in "Appreciation for Exemplary Achievements, Leadership, and Commitment to the Veterans Community in the District of Columbia" for his leadership in developing a pro bono project with the Veterans Legal Assistance Project of Neighborhood Legal Services Program, which is the first pro bono program aiding veterans in D.C.
Supreme Court of Florida
Duane Morris was honored with the Supreme Court of Florida Chief Justice's Law Firm Commendation Pro Bono Service Award for 2016. The annual award recognizes a law firm that has contributed significant hours and effort to pro bono legal services to individuals or groups that cannot otherwise afford those services and shows an extraordinary commitment to provide access to the courts for all Floridians.
Circle Urban Ministries
For more than five years, Duane Morris' Chicago office has provided a variety of pro bono legal services to Circle Urban Ministries. In recognition of the Firm's assistance in real estate, corporate, housing and employment matters, Circle Urban Ministries presented the Firm with a Corporate Partner Award. Since 1974, Circle Urban Ministries has worked to combat poverty, improve the educational, social, and vocational opportunities for at-risk youth, and help stabilize low-income families by providing quality social services and community development to Chicago's Austin community. This includes after-school programs, a Charter school, church, food pantry, 96-bed women's shelter, legal clinic and medical clinic.
"Duane Morris is the epitome of what every law firm should be—generous and stand-up lawyers who do not perform pro bono work for fame or recognition, but simply because it is the right thing to do."
—KAREN LADIS
Executive Director, Dade Legal Aid (Fla.)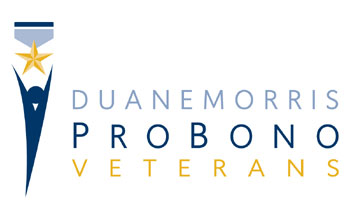 Duane Morris recognizes the sacrifices that service members have made for our country and is committed to helping them solve significant problems that have arisen as a result of their service. We assist veterans and their families with disability benefits appeals, discharge upgrades, homelessness prevention and many other civil legal needs. Our attorneys also represent organizations dedicated to empowering military service members, veterans and veteran-owned small businesses.
The Veterans Consortium 2017 Law Firm Pro Bono Mission Partner
Duane Morris has been named The Veterans Consortium Pro Bono Program (TVC) 2017 Law Firm Pro Bono Mission Partner for its service to veterans and their families, caregivers and survivors. Duane Morris has worked with TVC for many years, providing pro bono representation to veterans at the U.S. Court of Appeals for Veterans Claims. In the fall of 2016, the firm worked with TVC and Neighborhood Legal Services Program (NLSP) to implement pop-up legal clinics at Veterans Affairs (VA) facilities in the D.C. Metro area, providing free advice to more than 200 veterans.
"Duane Morris has gone above and beyond the call of duty on behalf of our nation's defenders. The new legal information and referral pop-up clinics increase our outreach to veterans who need support for federal court appeals of VA denials, discharge upgrades and other challenges. … Duane Morris attorneys additionally have provided crucial assistance to TVC in helping former service men and women appeal unjustly received other than honorable discharges so they can once again call themselves veterans."
—Edmund Glabus, Executive Director, The Veterans Consortium Pro Bono Program
Annual Veterans Week of Service
In 2016, Duane Morris celebrated its Second Annual Veterans Week of Service, serving over 150 veterans across the United States. Attorneys and staff collaborated with local organizations to provide pro bono aid to military service members, families and businesses in recognition of Veterans Day. Attorneys advised veterans and family members in a variety of veterans' benefits, discharge upgrade and civil matters, including drafting wills for over 50 veterans. In New York, Duane Morris was privileged to team up with Bunker Labs—New York, Deloitte and Start Small Think Big to lead a workshop and clinic for eight veteran-owned small businesses and startups. The workshop focused on choice of entity selection and veteran specific tax benefits. Duane Morris attorneys additionally provided one-on-one counseling concerning choice of entity, formation, patents and trademarks, doing business online and licensure agreements, employment law, and more.
In collaboration with the Veterans Legal Assistance Project of the Neighborhood Legal Services Program, The Veterans Consortium Pro Bono Program and area law schools, Duane Morris launched a series of pop-up legal clinics in D.C. Metro Area VA Medical Centers, outpatient clinics and wrap-around shelters. Before 2016, no capital area legal aids provided pro bono representation to veterans residing in the D.C. area. Together, the collaboration staffed five legal clinics across D.C. in fall 2016, holding three simultaneous clinics across the city for Veterans Day that aided hundreds of veterans. In 2017, the collaboration launched weekly legal clinics at the D.C. VA Medical Center.
Securing Remands Before the U.S. Court of Appeals for Army Veterans Claims
Our client served as a petroleum supply sergeant in the U.S. Army. She was denied service-connected disability benefits after sustaining a painful skin disorder when extinguishing a bulk fuel fire. The client's primary responsibility was issuing and handling fuel for helicopters. She received an Army Commendation Medal while on active duty for quickly and calmly extinguishing a bulk fuel fire caused by a leak in the fuel pipeline on base, which could have caused major damage (and personnel injuries) if not for her prompt actions. Due to fuel spilling on the veteran, she experienced a disorder that manifested itself intermittently as swelling, knots or cysts on both of her hands that were periodically accompanied by pain and/or itching. The client filed a claim for service-connected disability benefits related to the skin disorder, which was denied for years because the VA physicians never "saw a rash" appear in any of her medical appointments. Firm attorneys discovered the client had been treated several times by the VA, including twice surgically, for painful knots and cysts on the back of her hands. Nevertheless, this evidence was ignored entirely by VA medical examiners, the VA Regional Office and the Board of Veterans' Appeals. The attorneys successfully argued this was a blatant failure of the VA's duty to assist the client in developing her claim, which was remanded requiring the VA to fully develop the claim so that our client may be awarded the disability benefits she deserves.
Advocating for Veterans Aid and Benefits in Ukraine
Duane Morris attorneys from London, New York, Newark and Philadelphia teamed up with other international firms through TrustLaw | Thomson Reuters Foundation to research medical, financial, educational, housing and other types of support that countries provide to their military members and veterans globally. Firm attorneys researched how veterans are classified and treated under Israeli law. The global report was in support of a Ukrainian charitable organization working to educate, advance, and legislatively enact aid for Ukrainian veterans and military service members.
Unanimous SCOTUS Ruling in Pro Bono Veterans Case
On June 16, 2016, the Supreme Court of the United States reversed the Federal Circuit 8-0, ruling in favor of Kingdomware Technologies and veteran-owned small businesses in Kingdomware Technologies v. United States. The unanimous ruling means veterans will have (as Congress intended) expanded opportunities to compete for Department of Veterans Affairs (VA) business under the Veterans Benefits, Health Care, and Information Technology Act of 2006. Luke P. McLoughlin represented the National Veteran Small Business Coalition, several other national veterans' organizations and individual veteran-owned businesses as amici in support of Kingdomware. The decision affected 200,000 service-disabled veteran-owned small businesses and 2.5 million veteran-owned small businesses across the United States.
At issue was the Federal Circuit's restrictive interpretation of the Act. The Federal Circuit allowed the VA to ignore the Act's mandate for competitive bidding by veteran-owned small businesses, and rely instead on its unilateral discretion in awarding contracts. In practical terms, this interpretation resulted in roughly $10 billion of the VA's $18 billion in annual purchases being exempt from bidding by the veteran-owned small businesses. The Court's ruling restored to veterans the competitive bidding opportunities Congress intended.
Robert L. Byer, Kristina Caggiano Kelly and Michael E. Barnicle also assisted in the matter.
For more information about the case, read the Duane Morris Alert.
"On behalf of the Board and members of the National Veteran Small Business Coalition (NVSBC), as well as the entire veteran small business community, I want to thank [Duane Morris] for your efforts. … The Court's ruling … sets a high bar for the VA to maintain and will no doubt open up many contracting opportunities for service-disabled and veteran-owned small businesses. Many will benefit from your work and not even realize the significance of the Court's ruling. Those of us who have been fighting the fight for many years truly know and understand the significance of your work!"
—Scott Denniston, Executive Director, National Veteran Small Business Coalition
U.S. Court of Appeals For Veterans Claims Restores EAJA Fees Earned by Law Students at Harvard's Veterans Law Clinic
A novel interpretation of the Equal Access to Justice Act (EAJA), adopted by the VA, prevented an award of fees to Harvard Veterans Law and Disability Benefits Clinic for law student work on veterans disability benefits claims. The VA opposed EAJA fees claiming the Harvard Clinic was an educational setting and students derived a personal educational benefit. Veterans clinics around the country mobilized around the issue, due to its far-reaching consequences for all law school clinics and their regular reliance on EAJA fees for daily operations. In response, Duane Morris volunteered to represent dozens of amici, advocating the real-world need for access to attorneys' fees to help supplement the cost of free legal assistance. The U.S. Court of Appeals for Veterans Claims agreed, confirming the importance of pro bono clinics and noting how the "labyrinthine corridors" of the VA system create a "seemingly interminable struggle to obtain disability benefits." EAJA fees for law clinics in VA matters remain safe.
Appellate Victory for Vietnam Veteran with Hearing Loss
Duane Morris assisted a client, who served as a field artilleryman during the Vietnam War and now suffers from bilateral hearing loss and tinnitus. Since 2005, he has sought and appealed improper denials for service-connected disability benefits. The Firm successfully represented him before the U.S. Court of Appeals for Veterans Claims (CAVC), arguing that the VA Board of Veterans Appeals (BVA) failed to provide the client sufficient assistance in substantiating his claim and to provide audiology examinations concerning the cause of hearing loss. The CAVC remanded the case, ordering the VA to provide the veteran with a new audiology team, new medical opinions and the opportunity for the veteran to provide any additional relevant evidence for the VA to consider.
U.S. Sailor's Mother Gets Legal Status in the United States After 20 Years
In the early 1980s, Juan and Josefina moved to the United States from Mexico, settling in Houston as they raised five children, who are U.S. citizens. Juan worked as a truck driver and Josefina worked various jobs, including as a seamstress, strawberry picker and house cleaner. When their eldest child, Marisela, finished high school, she enlisted in the Navy to serve the country that had given her and her family so much. While Marisela was serving as an engineer on the USS Iwo Jima, Juan was deported from the United States. Through 8 the American Immigration Lawyers Association Military Assistance Project, Marisela contacted Duane Morris immigration attorneys to seek help to secure her mother's legal status in the United States. Duane Morris helped the family to prepare a Parole in Place for Military Families application. This program was designed to give active duty military members peace of mind while serving the U.S. to know undocumented family members are protected from deportation. The application was approved and now we are securing the mother's lawful permanent residency in the United States.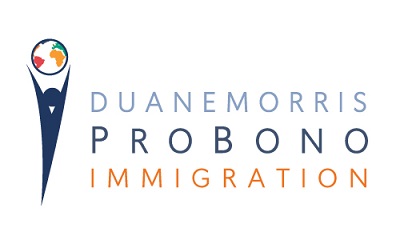 Political Asylum for LGBTQ Individuals Fearing Persecution and Death
Through Immigration Equality, the nation's leading LGBTQ immigrant rights organization, Duane Morris regularly represents individuals seeking asylum in the United States fearing persecution in their home country as a result of their sexual orientation.
Originally from Ghana, one client nearly was beaten to death for being gay and was imprisoned for 20 days to "cure" his homosexuality. The client fled Ghana to Brazil and eventually set out by bus, foot and human smuggler through South and Central America to California, seeking safety and asylum. In California, the client was detained by United States immigration officials and placed into deportation proceedings. Duane Morris defensively argued that the client feared persecution in Ghana and should not be ordered removed. The Philadelphia Executive Office for Immigration Review and the Department of Homeland Security agreed the client's fear was credible and granted him asylum.
Another client, a gay man from Jamaica, was forced to marry a woman to "prove" he was not gay. He fled his home country after being stoned and his wife attempting to kill him. He sought asylum in the United States so he could live a happy, secure life with his partner. Duane Morris attorneys from the Miami and Philadelphia offices successfully represented the client in an affirmative asylum application based on persecution related to his sexual orientation.
Securing Residency for Iraqi Interpreter Assisting United States Military
Working with the International Refugee Assistance Project Chapter at Rutgers School of Law—Newark, a team of attorneys obtained lawful permanent residency for an Iraqi interpreter and his family. Our client helped the United States military during Operation Iraqi Freedom and was promised a special immigrant visa over 10 years ago, but as of 2016, he had yet to be granted the visa. Out of options and facing threats of violence, he and his two small children sought refuge in Greece, but were turned away and forced back to Iraq. The client finally interviewed with United States Citizenship and Immigration Services in December 2016 and was told he would receive his visa within 60 days, but the visa again was delayed.
Duane Morris facilitated communication with the United States Embassy in Iraq to expedite the already overdue process, which the client received in June 2017. Catholic Charities Dallas assisted the client in moving to Dallas, Texas, where he had employment opportunities waiting.
Deportation Order Reopened for Mother and Daughter
Our client, a 23-year-old mother, fled El Salvador with her 9-year-old daughter after being threatened by gangs in their hometown. They were ordered deported from the United States after their prior attorney inexplicably withdrew their political asylum application at a prior hearing. The two were detained in detention centers in Dilley, Texas, and Berks County, Pennsylvania, for many months. Upon learning of the family, attorneys in Duane Morris' Washington, D.C., office successfully moved to reopen the deportation at the Board of Immigration Appeals. The mother and daughter finally were released from detention while the attorneys continue to prosecute their asylum application.
Asylum Relief for Trafficking Survivor
A hairdresser by profession, our client, a Nigerian national, was lured to Ecuador by a regular client and allegedly good friend with promises of better work opportunities. After arriving, the so-called friend brutally forced our client into trafficking, having our client sexually assaulted and removing our client's fingernails with pliers when she resisted. The client was commercially sexually exploited for almost one year before she escaped and fled to the United States. Traveling from Columbia to Panama, then overland through Central American and Mexico, our client sought asylum at the U.S. border and was placed in detention. Not only was our client afraid to return to Nigeria for fear of reprisal by her traffickers, but she also was afraid of persecution on account of her Christian religious beliefs. While she was in South America, one of the branches of the client's church was burned down by Boko Haram, Nigeria's militant Islamist group. Duane Morris attorneys represented the client in a bond hearing advocating for her release from detention as well as her asylum and withholding of removal hearings. Upon release, Duane Morris attorneys and Casa Cornelia Law Center, a public interest law firm in Southern California aiding victims of human and civil rights violations, helped the client develop a new home and community.
360 Acts of Citizenship in 2017
In 2017, Duane Morris challenged attorneys and staff to complete 360 citizenship-related pro bono projects, including representation in individual naturalization applications, screening immigrants to determine if they are eligible to naturalize, participating in citizenship clinics, trainings and more.
Duane Morris offices teamed up to staff dozens of naturalization clinics around the United States. In Philadelphia, TD Bank and the Hebrew Immigrant Aid Society (HIAS) Pennsylvania joined the Philadelphia office in staffing bimonthly citizenship clinics. Attorneys aided clients from numerous countries, including Albania, Côte d'Ivoire, Haiti, Liberia, Jamaica, Mexico, Nigeria, Nepal, Sierra Leone, Sudan and Vietnam.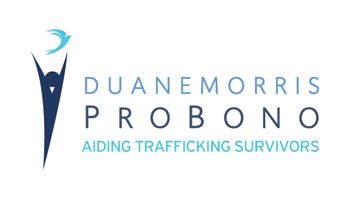 Duane Morris salutes the indomitable human spirit. Recognizing the need for new beginnings, clean slates and renewed hope, our attorneys provide thousands of pro bono hours to survivors of human trafficking and victims who were exploited and wrongfully convicted. We are humbled and inspired by the strength of our clients and the depth of their resiliency in spite of daunting circumstances.
Vacatur Representation for Trafficking Survivors
For several years, Duane Morris attorneys have represented domestic survivors of commercial sexual exploitation and human trafficking around the country in vacating criminal convictions resulting from their trafficking. As vacatur laws are enacted in states across the United States, Duane Morris' pro bono practice has expanded to new jurisdictions. States likewise are expanding the list of vacatable offenses in recognition that survivors often are convicted of inter alia weapons and assault charges, as well as drug-related convictions as a direct result of their trafficking.
Duane Morris attorneys successfully vacated drug-related criminal convictions for a pro bono client who endured a tremendous amount of abuse since immigrating to the United States. As the mother and sole caretaker of three young U.S. citizen children, our client was in immigration removal proceedings as a result of her criminal convictions, which were the direct result of her trafficking. The victory gave the client the best opportunity to avoid deportation and remain in the country with her children.
In another case, Duane Morris represented one of the first survivors in New Jersey to have her trafficking-related convictions vacated under a New Jersey 2013 law permitting vacatur of criminal convictions for those who have been trafficked. Duane Morris attorneys petitioned Hudson County, New Jersey Superior Court and successfully vacated the client's convictions and helped end a very difficult chapter in her life.
Incorporating New Legal Aid for Trafficking Survivors in Southern California
Prior to 2017, no legal aid specifically served survivors of human trafficking and commercial sexual exploitation living south of Los Angeles. This changed, when Duane Morris helped form Free to Thrive, and along with the ABA Survivor Reentry Project, helped train San Diego area attorneys on commercial sexual exploitation dynamics, California's new criminal vacatur law and trauma-informed advocacy.
Deloitte and Duane Morris Celebrate Impact Day 2016
Duane Morris' New York office partnered with Deloitte's Impact Day to provide Girls Educational & Mentoring Service (GEMS) and its members and alumni with a "more than a survivor" career day. GEMS serves girls and young women survivors of commercial sexual exploitation and domestic trafficking.
During the career day, Duane Morris attorneys Nanette Heide and Lily Gao, along with Deloitte's Magdalena Aliga Jarosz, Elene Karanicolas, Elizabeth Gagnon and Helen Weintraub, discussed their careers and the lessons learned throughout their various occupations in fashion, accounting, corporate law and public relations. GEMS members practiced marketing pitches, discussed interview questions and learned about operating a bakery from Sweet Generation, a woman-run business in New York that supports internship programs for at-risk youth and teaches job readiness in their creative bakery space.
Duane Morris and Deloitte team members also learned about the commercial sexual exploitation of children in New York and packed crisis bags for survivors as they enter the GEMS program.
Pro Bono Partner – GEMS
Founded in 1998, Girls Educational & Mentoring Services (GEMS) is the only organization in New York state specifically designed to serve girls and young women who have experienced commercial sexual exploitation and domestic trafficking.
As a proud supporter of GEMS, more than 40 Duane Morris attorneys have:
Donated more than 4,500 pro bono hours
Worked on nearly 450 motions and legal labs
Illinois Survivor Becomes National Leader
Trafficked, beaten and subject to unimaginable emotional abuse for more than 20 years, our client escaped in 1997 and dedicated her life to helping others escape similar circumstances. She founded the Dreamcatcher Foundation, a nonprofit organization serving Chicago girls impacted by the sex trade, worked with the Cook County Sheriff's Office to provide desperately needed services to trafficked girls and women and won numerous awards for her work. Nevertheless, our client's prostitution convictions kept her from achieving further goals, including becoming an adoptive parent, working with at-risk youth and opening a crisis center for her organization.
Working in conjunction with the Chicago Alliance Against Sexual Exploitation (CAASE), Duane Morris attorneys assisted the client in expunging her criminal convictions under the Illinois Justice for Victims of Sex Crimes Trafficking Act. The Act allows state courts to vacate prostitution-related convictions if the petitioner can show they were a victim of trafficking at the time of the conviction.
Pro Bono Partner – CAASE
Chicago Alliance Against Sexual Exploitation (CAASE) envisions a community free from all forms of sexual exploitation, including sexual assault and the commercial sex trade. CAASE addresses the culture, institutions and individuals that perpetrate, profit from, or support sexual exploitation. The organization's work includes prevention, policy reform, community engagement and legal services.
Highlights of Duane Morris' work with CAASE:
Currently helping eight trafficking victims vacate their criminal convictions for prostitution
Honored with the 2015 Pro Bono Superstar Firm Award
Expanding Legal Protections for Victims of Trafficking
Collaborating with the Chicago Alliance Against Sexual Exploitation (CAASE), Duane Morris attorneys helped expand the types of convictions that may be vacated under Illinois' Justice for Victims of Sex Trafficking Crimes Act. In addition to successfully vacating prostitution convictions relating to our client's trafficking, Duane Morris attorneys argued that the Act should be construed to permit vacatur of other convictions that were the direct result of a survivor's trafficking. In doing so, Duane Morris attorneys helped set a precedent in Illinois, which will aid many more survivors to vacate convictions from their criminal records wherein they really were the victim, not the criminal.
Collaborating to Educate and Prevent Child Exploitation in Our Communities
It is estimated that 200,000 to 300,000 U.S. adolescents annually are at risk for commercial sexual exploitation or sex trafficking. The average age at which children are targeted by traffickers is 12–14 years old. As a result, mentoring, education and support are key, both for youth and adults. Duane Morris' New York office teams up with Girls Educational & Mentoring Services (GEMS), which helps hundreds of domestically trafficked girls and women flee their traffickers and develop their full potential. Our attorneys represent survivors in motions to vacate prostitution-related criminal convictions, lead know-your-rights workshops, host civil legal clinics and provide legal counseling and representation to survivors concerning the myriad of civil legal issues they confront. Among other measures, the New York Safe Harbor for Exploited Children Act provides specialized services for survivors recognizing their status as victims of crime and the unique traumas they face. The law also permits the vacatur of prostitution-related convictions that are the result of survivors' trafficking, thus affording survivors lives unencumbered by criminal records.
Cross-office, cross-practice pro bono efforts, with teams in Duane Morris' Atlanta, Chicago, Boston, Philadelphia, Boca Raton and Miami offices, also aid domestically trafficked girls and women in their communities.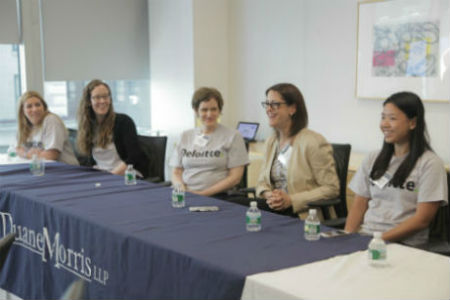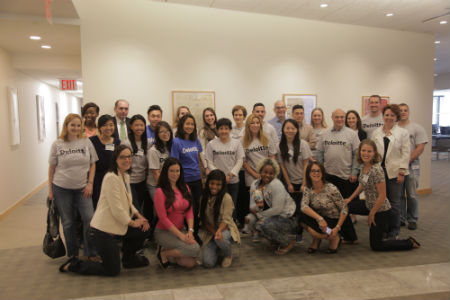 On June 10, Duane Morris participated in Deloitte's Impact Day 2016 to provide GEMS and its members and alumni with a "more than a survivor" career day.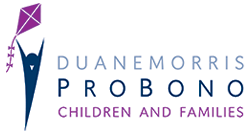 Nationally, there is less than one civil legal aid attorney to help every 10,000 Americans living in poverty. Children are the most legally underrepresented and vulnerable members of society. In the United States, 21 percent—or one in five—children live in families with incomes at or below the federal poverty guidelines. Ensuring family unity and stability for children and families through all types of legal proceedings has been a hallmark of the Duane Morris Pro Bono Program since its founding.
Securing Grandparent Guardianship and Visitation Rights in Massachusetts
Several years ago, a team of attorneys obtained a judgement from the Massachusetts Supreme Judicial Court holding that grandparents have legal standing to petition for visitation rights with their grandchildren. The client was a 77-year-old grandfather who had been denied contact with his granddaughter for over 10 years by her legal father. Despite a "limited guardianship" that was expected to encourage the young woman to develop independence and a court order allowing her freedom of visitation with her grandfather, her father still cut off any contact with the young woman's grandfather. This past year, Duane Morris attorneys successfully enforced the grandfather's right to visitation with his granddaughter. Three-and-a-half years after the team's initial petition, the court granted the grandfather visitation and the two shared a big hug.
Protecting Tenants Facing Eviction
Across the country, Duane Morris attorneys represent tenants living in uninhabitable conditions and facing eviction. One particular client couple struck a chord with Los Angeles attorneys in 2017, who won a bifurcated bench trial on the clients' behalf in the Superior Court of Los Angeles County. The clients moved to the United States from Mexico in 2016 along with their three young children. That spring, the father suffered a back injury and could not work for many months. The family fell behind on their rent by less than one month. When the family attempted to make up the payment a few weeks later, the landlord refused and started eviction proceedings. Duane Morris represented the family in depositions, a summary judgment motion, mediation and bench trial before the Superior Court, ultimately ensuring the family remained in their home.
Win for Charter School Expansion in New Jersey
The Hoboken Dual Language Charter School (HoLa) offers an innovative educational program providing traditional core curriculum through immersion instruction in both Spanish and English to children of all language backgrounds. After the Hoboken Board of Education challenged renewal of HoLa's charter as well as HoLa's expansion—alleging HoLa had a segregative effect on Hoboken district schools—Duane Morris attorneys, on behalf of the New Jersey Charter School Association and in support of HoLa, argued the Board's measurements alleging segregation were improper and not supported by New Jersey law. The New Jersey Superior Court, Appellate Division, affirmed the New Jersey commissioner of education's analysis of racial and economic segregation in Hoboken schools and supported renewal and expansion HoLa. Because claims of segregation have become the primary argument by charter opponents to oppose renewal and expansion, the case implicated every one of New Jersey's 90 charter schools serving over 50,000 students.
Obtaining Guardianships for Families Caring for Their Disabled Loved Ones
Duane Morris attorneys in California, Maryland and Pennsylvania regularly work to ensure family unity by securing guardianships supporting incapacitated persons in living their lives to their fullest potential. When a child, sibling or parent no longer has or never will have capacity to handle his or her daily care and finances, a guardianship is the only legal remedy available to permit family members authority to take care of their loved one. Without access to counsel, low-income parents whose children are reaching the age of majority frequently have difficulty obtaining guardianship so they may continue making medical decisions on their children's behalf. Children frequently are unable to receive therapy, assistance with daily living or schooling until the parents obtain guardianship. Likewise, low-income adult children seeking to ensure their senior parents are cared for after they have dementia, Alzheimer's or other illness frequently face roadblocks in accessing the court.
In one case, Duane Morris attorneys represented a guardian seeking to care for her 90-plus-year-old mother with dementia. The mother refused to leave her home, and due to her dementia, the woman did not recognize her limitations or remember her actions. The mother was living in a home infested with mice, roaches, fleas and bed bugs. Family members who supposedly were taking care of the mother did not ensure she was fed or clean. They did not even ensure the property taxes were paid on a neighboring home in which the mother graciously allowed them to live. Consequently, the home was put up for sheriff's sale and one of the mother's daughters sought Duane Morris' assistance so her mother did not lose the home. Attorneys obtained guardianship of the woman on behalf of the daughter, who cleaned up the home, paid down the property taxes and ejected the other family members. The mother continues to age in her home surrounded by memories and family members who seek to ensure her safety.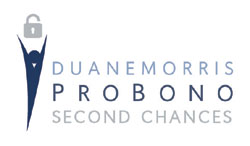 Innocent Man's Arson Conviction Vacated
Duane Morris represented the Innocence Network pro bono as amicus curiae in helping vacate the conviction of a Kentucky man who was sentenced to 52 years in prison for arson, second degree manslaughter and other offenses. At issue was the government's expert testimony in the initial trial. Expert witnesses applied burn pattern analysis and used a specially trained dog to detect potential chemical accelerants, thus claiming the fire originated in different places and implying the fire was set intentionally. Advocating for a new trial, Duane Morris attorneys argued that such fire science methods and analyses now are recognized as faulty in an increasing number of jurisdictions. At the new trial, defendant's experts testified to the unreliability and faultiness of the government's experts' methods, analysis and opinions. Because the conviction was based on unreliable expert testimony regarding fire origination, the court found the interests of justice required the conviction be vacated. The defendant was released from prison after serving over 10 years. The court held, "It is now objectively clear that the opinions given by these four experts at trial were, viewed in the most favorable light, based on obsolete and erroneous techniques, 'rules of thumb' and assumptions, and none can be relied upon as true."
Pro Bono Representation in Two Successful Presidential Commutations
Attorneys in Duane Morris' Philadelphia and San Francisco offices successfully represented pro bono clients Curtis Bell and Christopher Pfaff, respectively, in obtaining commutations of their sentences for nonviolent drug offenses. At 58 years old, Mr. Bell spent the past 22 years in federal prison on a drug conspiracy charge for which he was sentenced to life imprisonment. Mr. Pfaff served 12 years of a 21-year sentence in federal prison; he had pled guilty to a drug manufacturing charge.
Working with the American Bar Association and Clemency Project 2014, Duane Morris petitioned the president, through the Department of Justice's Office of the Pardon Attorney, for the clients' release under the Justice Department's program to commute and pardon exemplary, nonviolent offenders who served more than 10 years of sentences for crimes that, if sentenced today, the individuals already would have been released.
Released in May 2017, Mr. Bell is working as a chef in prepared foods. He reunited with and cares for his 85-year-old mother, two children and several grandchildren. While incarcerated, Mr. Bell expressed remorse and was a productive, peaceful and hardworking inmate. He served as one of the main cooks at Federal Correctional Institution Yazoo City (Mississippi) Medium. He also earned his GED and hopes to work with programs designed to keep youth out of prison.
Despite Mr. Pfaff's history of no violent behavior or ties to any drug cartel or supplier network, he faced a long sentence under prevailing sentencing laws. If he were sentenced today, Mr. Pfaff likely would have received a sentence of fewer than eight years, not 21 years. During his 12 years in prison at United State Penitentiary, Marion (Illinois), Mr. Pfaff had an exemplary record of good conduct, showed commitment to hard work, earned his GED and excelled in college-level math courses. Mr. Pfaff plans to study physics and engineering and to pursue a career in those fields.
Parole for Client Sentenced to Life in Prison as a Juvenile
Richard Phelps was sentenced to life without parole as a juvenile for a crime he committed when he was 16 years old. After serving 35 years of his sentence, Mr. Phelps was paroled in spring 2017. Duane Morris attorneys successfully represented Mr. Phelps in his constitutionally mandated resentencing hearing under Miller v. Alabama (2012) (holding that mandatory life without parole sentences are unconstitutional for juvenile offenders) and Montgomery v. Louisiana (2016) (holding that Miller must be applied retroactively). In advocating for a reduced sentence, the team considered Mr. Phelps' young age, lack of prior misconduct of any form and difficult childhood as well as his remorse and rehabilitation efforts while incarcerated. Prior to his resentencing, Mr. Phelps had been free of any misconduct—minor or major—for over 20 years, and he worked as the manager of the soap detergent factory at the state correctional institution from 1988 to 2015. In 2015, he began working in the print shop to accommodate his taking GED classes. Mr. Phelps also participated in courses and programs aimed at violence prevention and victim awareness.
Now living with his godmother, Mr. Phelps is pursuing opportunities with Philadelphia's Center for Employment Opportunities for formerly incarcerated individuals and the Youth Sentencing & Reentry Project, which partners with court-involved youth to provide support to children prosecuted in the adult criminal justice system, including juvenile lifers.
Duane Morris Helps Organize Citywide Expungement Clinic for Over 300 Philadelphians
Historically, Pennsylvanians encountered steep barriers to expunging criminal records. Absent expungement, a publicly accessible record would remain even when a person was merely arrested and never convicted of a crime. Indeed, only such non-convictions were expungable in Pennsylvania; criminal convictions could not be expunged no matter how many years elapsed or whether a person completed his or her sentence. Beginning in November 2016, a new law allows Pennsylvanians to seal minor misdemeanor convictions so they only are accessible to judicial and law enforcement officials. Duane Morris attorneys—in collaboration with Community Legal Services of Philadelphia and the Philadelphia Bar Association—led a citywide clinic to help clear the records of more than 1,000 Philadelphia residents. Duane Morris attorneys assisted over 300 individuals in expunging and sealing their records, with the hope of helping open doors to employment for fellow city residents.
Corporate Pro Bono Help for the Atlantic Center for Capital Representation
The Atlantic Center for Capital Representation (ACCR) (Philadelphia) provides consultation and mitigation services, legal advocacy and training for defense attorneys providing legal representation in death penalty and juvenile life without parole sentencing and resentencing cases in Pennsylvania. Duane Morris attorneys represented ACCR in establishing as an independent nonprofit with IRS tax-exempt status and ACCR supported Duane Morris by providing mitigation and reentry services for several clients in juvenile life without parole resentencing hearings.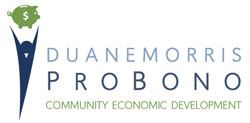 Duane Morris plays a vital role in strengthening the communities in which Firm employees live and work. To expand access to justice, Duane Morris collaborates with numerous legal services organizations and other community-based nonprofits to support community building efforts and provide pro bono legal representation. Our representation includes matters involving domestic violence, housing, guardianship, disability benefits, landlord-tenant, nonprofit incorporation, governance, protection of intellectual property, tax-exempt status and many other criminal and civil legal matters.
Encouraging Outsider Artists
Intuit: The Center for Intuitive and Outsider Art (Chicago) exhibits artists who demonstrate little influence from the mainstream art world and instead are motivated by their unique personal visions. Duane Morris advises Intuit on various business matters, from review of bylaws and contracts to lease and media agreements, tax and art law.
Duane Morris additionally provided pro bono legal assistance to The Floating Museum in its project entitled "River Assembly." Through the project, the museum brought the Chicago River to life with interactive public arts via a barge that was transformed into a striking mobile gallery. The firm also supported the museum's project entitled "How to Give Life to a Mountain," shown at the DuSable Museum of African American History. Using objects from the DuSable's collection as gateways to histories past, present and unimagined, artists reproduced and reinterpreted the pieces to reorder history and create new connections.
Uniting Communities with Pizza
Scott Wiener's love of pizza—particularly cultural and regional differences—led him to create Scott's Pizza Tours (New York). What began with friends in his car driving around New Jersey and New York led to renting out a bus and quickly transformed into an entrepreneurial business. Recognizing that treating food as entertainment is a luxury too many people cannot afford, Scott soon hosted the first annual Slice Out Hunger party. A simple idea, Scott uses food donated from independent pizzerias to raise money for local food banks and pantries with proven track records. Since New York City isn't the only community that could benefit from Slice Out Hunger events, Duane Morris attorneys are aiding Scott and Slice Out Hunger in their next venture: helping communities run Slice Out Hunger events on their own, as well as implement effective campaigns to raise funds and awareness for neighbors in need. Scott's goal is to spread the message: Pizza has the power to unite and support communities.
Saving a Juice Bar in Harlem
Elma's in Harlem dishes out mouthwatering West Indian cuisine and soul food in a fun, friendly atmosphere. Owner Jimmie began saving money in high school with the goal of owning his own restaurant and feeding the neighborhood just as his grandmother, Elma, brought people together through food. After investing all his personal savings into opening a juice bar, the landlord refused to turn on the water for several months, causing Jimmie to lose profits and stalling operations. Duane Morris attorneys assisted Jimmie in obtaining a judgment from New York Civil Court for the full amount of damages Jimmie endured as a result of the landlord's actions. Now Jimmie is moving forward serving his local community and enhancing the lives of people that make up his culturally rich section of the city.
Jimmie was introduced to Duane Morris by colleagues at Start Small Think Big (New York), which connects immigrant and traditionally underserved/unbanked small-business owners with legal and financial representation.
Supporting Celiac Disease Awareness
Celiac disease affects an estimated one in 133 Americans. Over a decade ago, Beyond Celiac (nationwide) was founded as a small patient advocacy group, the National Foundation for Celiac Awareness (NFCA), with the goal of creating a world where people with celiac disease can be quickly diagnosed, eat safely and live their lives to the fullest. Today, Beyond Celiac has grown into a leading organization impacting more than 2 million people by driving awareness and diagnosis of celiac disease. Along the way, Duane Morris attorneys have provided valuable intellectual property representation to Beyond Celiac ensuring its information, ideas and brand are protected so Beyond Celiac may focus on the mission of finding a cure for the disease.
Building Homes with Habitat for Humanity, Power Women Power Tools
Duane Morris has represented Habitat for Humanity of Greater Los Angeles pro bono for several years in negotiating real estate transactions for land parcels where Habitat will build affordable housing for low-income families. Duane Morris attorneys and staff additionally teamed up with Habitat L.A. families to frame buildings that will house 10 families in Habitat L.A.'s new Culver City project, the first affordable homeownership development in the city's history.
"The Future Ain't What It Used To Be."
Generations know Yogi Berra as one of the greatest baseball players to ever play in the major leagues, but fewer people know the stories of Yogi's principled life, including his service in World War II and his dedication to family and diversity. The Yogi Berra Museum & Learning Center (New Jersey) works to sustain and promote the values of respect, perseverance, sportsmanship and excellence through inclusive, culturally diverse sports-based educational exhibits and programs, thus keeping Yogi's legacy alive for new generations of leaders. Duane Morris supports Yogi's mission by representing the museum pro bono in restructuring the museum's board and bylaws, negotiating and reviewing contracts, and securing its intellectual property, among other matters. Firm attorneys also provided legal advice to veterans and military families during the museum's veteran service fair.
"We aren't passengers on Spaceship Earth, we're the crew. We aren't residents on this planet, we're citizens. The difference in both cases is responsibility."—Apollo Astronaut Rusty Schweickart, best known as the first to pilot the Lunar Module
Duane Morris responds to the call for responsible business practices through pro bono efforts increasing equal access to justice in our communities. Duane Morris Alumni Give Back, a new pro bono initiative, will formally align, activate and encourage alumni to team up with current Firm attorneys through its Pro Bono Program. The first phase of the project is underway with the inclusion of alumni on all pro bono publications, as well as invitations to all Duane Morris sponsored public interest CLEs and legal clinic volunteer opportunities where available.
Duane Morris proudly sponsors regular pro bono clinics throughout our offices focusing on diverse matters, including:
Medical legal partnerships at several Veterans Administration medical centers;
U.S. naturalization screenings and application preparation clinics;
Will drafting and advanced planning clinics for individuals with terminal illnesses, veterans and more; and
Office hours for various court-sponsored self-help programs, entrepreneur and inventor clinics, and many more.
The Firm also distributes information on time-limited, emergent pro bono opportunities, such as telephone-based FEMA and civil legal advice for victims of natural disasters. Training opportunities and manuals are available to all new volunteers.
Spotlight On: Pro Bono Partnerships
In Philadelphia and Pittsburgh, the Pro Bono Program supports alumna Marissa Boyers Bluestine (Philadelphia), now Legal Director at the Pennsylvania Innocence Project, by assisting in individual innocence investigations and cases, as well as in amicus briefs across the commonwealth. Through the global Innocence Network and other state-based Innocence Projects, Duane Morris attorneys across the United States aid individuals seeking to be exonerated of crimes for which they were wrongfully convicted and work to ensure that the scientific basis of testimony in science-dependent cases is fully examined.