Chambers and Partners 2023
Ranked by three Chambers national/regional guides of leading lawyers for business—Chambers USA, Chambers Global and Chambers Asia-Pacific—as well as Chambers High Net Worth guide
Ranked among U.S. leaders in Insurance, Construction, Gaming, Cannabis Law and Immigration
46 practice areas cited for excellence

The Deal Power Rankings

Ranked as the Top Bankruptcy Law Firm in the U.S. for 2018, 2019, 2020, 2021 and 2022
Ranked as Top 5 At-the-Market Offering Selling Agent Counsel, aggregating $3.6 billion of total commitment, for 2021
Ranked as Top 25 PIPEs Placement Agent Legal Counsel for 2018, 2019, 2020, 2021 and 2022
U.S. News-Best Lawyers Best Law Firms 2023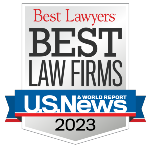 Top-tier national rankings in Appellate, Bankruptcy Law and Litigation, Commercial Litigation, Construction Law and Litigation, Corporate Law, Employment Law, Energy Law, Equipment Finance Law, Health Care Law, Immigration Law, Insurance Law, IP Litigation, Mass Tort Litigation/Class Actions, Patent Law and Litigation, Real Estate Law, Trademark Law, Trusts and Estates Law and White-Collar Defense.
National IP Rankings
Repeatedly ranked among the leading U.S. law firms handling patents, trademarks, copyrights and related litigation.
Ranked the Top Firm representing petitioners before the PTAB, according to Unified Patents' institutional success index (2018-2022).
Ranked a Top 10 Firm (North America - North East) by both Patent Lawyer and Trademark Lawyer magazines in 2022.