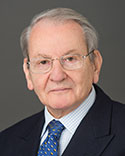 Thomas R. Newman
When an appeal involves legal issues that are novel or of statewide importance, appellate counsel should consider soliciting amicus curiae ("friend of the court") participation in support of their client's position. The first step is to identify potential amici who would be willing to submit an amicus brief to provide the court with information and perspectives beyond what is presented by the parties. For corporate litigants, in-house counsel can be a valuable resource for identifying potential amici and assisting appellate counsel in soliciting amicus participation.
Interest groups are frequent amicus participants. In Saint v. Syracuse Supply Co.,[1] for example, the New York State Trial Lawyers Association and Defense Association of New York filed amicus briefs on opposing sides of a personal injury action arising under the New York Labor Law. Industry trade groups are also active amicus participants. In ACE Sec. Corp. v. DB Structured Products,[2] multiple banking and securities industry associations filed amicus briefs in a case involving mortgage-backed securities. Many interest and trade groups have committees that search for amicus opportunities and evaluate requests for amicus participation.
The New York Court of Appeals website (http://www.courts.state.ny.us/ctapps) contains a link to weekly "New Case Filings" which lists recently filed appeals by case title, jurisdictional predicate, subject matter and key issues. Although the issues in this list are derived from Preliminary Appeal Statements processed by the Clerk's office, and thus may never reach briefing or a decision on the merits, their publication may suggest motions for amicus participation to counsel whose clients are interested in the subject matter of these appeals. Indeed, the website indicates that "[t]he Court welcomes motions for amicus curiae participation from those qualified and interested in the subject matter of these newly filed appeals."
Permission Required
In state practice, non-parties other than the Attorney General must move for permission to file an amicus brief in support of or in opposition to a party's appeal. The New York Court of Appeals has a comprehensive rule governing motions for permission to file an amicus brief.[3] This rule is instructive for amicus motions in the Appellate Division as well, especially with respect to the criteria for obtaining amicus relief.[4]
In the Court of Appeals, a motion for permission to file an amicus brief must be noticed for a return date no later than the court session preceding the session in which argument or submission of the appeal is scheduled. This rule affords the adverse party an opportunity to address the points in the amicus brief in its answering or reply brief. Adherence to this rule is crucial since the court will dismiss an untimely amicus motion.[5] Information on the calendar status of appeals, court session dates and appropriate return dates for amicus motions is available from the Clerk's office and the court's website.
The movant must submit a proposed amicus brief with the motion papers.[6] Although appellate courts are liberal in granting amicus relief,[7] this requirement forces an amicus to assess whether the issue is sufficiently important to warrant the cost and effort of preparing a proposed brief with no assurance that the court will accept it.
A motion for amicus relief must demonstrate that: "(i) the parties are not capable of a full and adequate presentation and that movant could remedy this deficiency; (ii) movant could identify law or arguments that might otherwise escape the Court's consideration; or (iii) the proposed amicus curiae brief otherwise would be of assistance to the Court."[8] The affidavit in support of the motion and proposed brief should also discuss the nature of the movant's interest in the issues, identify the party supported and state whether the amicus suggests affirmance or reversal.
A party served with a motion for amicus relief may file opposition thereto. Absent a compelling reason to oppose amicus relief, adverse parties often consent to such relief as long as the proposed amicus has a legitimate interest in the case, lest the party filing opposition appear to be concerned about the content of the proffered brief.
Generally, permission to file an amicus brief is sought after the appeal has been docketed in the appellate court. An amicus, however, may also seek to participate in motions for permission to appeal where the proposed appellant does not have an appeal as of right. Amicus briefs in support of a party's motion for permission to appeal can be very effective in showing the court that the case presents important issues beyond the interests of the immediate parties, which is a principal ground for granting a party's motion for permission to appeal.
The motion for such relief, which must be accompanied by the proposed amicus brief, "shall be noticed for a return date as soon as practicable after the return date of the motion for permission to appeal to which it relates."[9] Again, this affords the adverse party an opportunity to address the points of the amicus.
Notably, the granting of a motion to appear as an amicus on a motion for permission to appeal does not automatically authorize the movant to appear as an amicus on the subsequent appeal. Thus, the movant must specifically request two items of relief: (1) amicus participation on the motion for permission to appeal; and (2) "if permission to appeal is granted, leave also be granted for movant to submit an amicus brief on the appeal." Absent a request for the second item of relief, if permission to appeal is granted, the amicus must start the process over again by filing a new motion for leave to file the amicus brief.[10]
Attributes of Effective Briefs
As noted, amicus curiae means "friend of the court." Friends try to help, not burden, each other. A persuasive amicus curiae brief can be an effective complement to the brief of a party and can assist the court in deciding issues that have potential ramifications beyond the matter at hand. Conversely, while coordination of arguments is of course desirable between amicus counsel and counsel for the party whose position the amicus supports, an amicus brief that merely parrots the arguments of a party (a "me too" brief) or functions as a blatant lobbying effort to achieve a particular outcome only burdens the court, and, even if accepted for filing, will probably be ignored.
Thus, in Sony Corp. v. Universal City Studios,[11] the U.S. Supreme Court observed that "[t]he stated desires of amici concerning the outcome of this or any litigation * * * are not evidence in the case, and do not influence our decision; we examine an amicus curiae brief solely for whatever aid it provides in analyzing the legal questions before us."
Counsel for the amicus is constrained by the record created by the parties and "shall not present issues not raised before the courts below."[12] In Bryant v. New York City Health and Hospitals Corp.,[13] for example, the court was called upon to establish a methodology for the calculation of damages under the structured judgment statute applicable to medical malpractice actions (see, N.Y. Civil Practice Law and Rules §5031).
Both sides urged different methodologies. An amicus argued that both sides were wrong, urged yet a third new approach, and asked that the court remit for further proceedings or simply devise its own methodology. The court declined, however, "to announce a rule untested by the courts or parties during the years these cases have been in litigation."[14] Similarly, in Reno v. Koray,[15] the U.S. Supreme Court declined to consider an amicus' equal protection argument that had been waived by a party in the federal court of appeals.
In most cases, the parties' counsel will be capable of a full and adequate presentation of the issues insofar as they affect the parties' immediate interests. The value of amicus briefs, therefore, usually lies in their ability to focus the court's attention on law or arguments that might otherwise escape its consideration. For example, an amicus brief may reveal a problem with how a potential ruling recognizing a new cause of action would affect differently situated non-parties. Thus, an effective amicus brief may persuade the court to limit the scope of its ruling to the specific facts of the case before it to avoid unintended consequences that would result from a broader ruling.
Amicus briefs can serve to highlight the public policy implications of an appeal. In Niesig v. Team I,[16] for example, the Court of Appeals was asked to interpret Disciplinary Rule 7-104(A)(1) of the Code of Professional Responsibility, which prohibits a lawyer from communicating directly with a "party" known to have counsel and to establish guidelines for ex parte interviews of a corporate party's non-management employees. This issue generated wide interest, and the court received amici briefs from diverse groups. Judge Judith Kaye, in her opinion for the court in Niesig, noted "the particular contribution made by the various amici curiae in this case; by highlighting the diverse contexts in which the question may arise, their submissions have enlarged our comprehension of the broad potential impact of the issue presented."[17]
Amicus briefs can also serve to highlight the practical implications of a judicial ruling in areas involving technical or scientific knowledge, which explains why such briefs are regularly filed in products liability litigation. For example, an automotive trade association amicus may be in a better position than the parties to inform the court about the feasibility of a proposed redesign. Amicus briefs may also add background information about the genesis or implementation of a specific statute or statutory framework, or about how other jurisdictions have resolved a particular legal issue. These are the kinds of amicus briefs that truly assist the court in deciding novel or important issues. They are also the ones most likely to be read by busy appellate judges.
Thomas R. Newman is of counsel to Duane Morris and author of 'New York Appellate Practice' (Matthew Bender). Steven J. Ahmuty, Jr. is a partner at Shaub, Ahmuty, Citrin & Spratt.
Endnotes:
[1] 25 N.Y.3d 117 (2015).
[2] 25 N.Y.3d 581 (2015).
[3] See Section 500.23 of the Rules of the Court of Appeals (22 N.Y.C.R.R. §500.23).
[4]See also Section 670.11 of the Rules of the Second Department and Section 1000.13(k) of the Rules of the Fourth Department.
[5] See Hurrell-Harring v. State, 14 N.Y.3d 833 (2010).
[6] 22 N.Y.C.R.R. §500.23(a)(1)(i).
[7] For example, the 2014 Annual Report of the Clerk of the New York Court of Appeals shows that the court granted 152 of 155 motions for amicus curiae status.
[8] 22 N.Y.C.R.R. §500.23(a)(4).
[9] 22 N.Y.C.R.R. §500.23(a)(3).
[10] Id.
[11] 464 U.S. 417, 434 n.16 (1984).
[12] 22 N.Y.C.R.R. §500.23(a)(4).
[13] 93 N.Y.2d 592 (1999).
[14] Id. at 601 n.3.
[15] 515 U.S. 50, 55 n.2 (1995).
[16] 76 N.Y.2d 363 (1990).
[17] Id. at 376-77.
Reprinted with permission from New York Law Journal, © ALM Media Properties LLC. All rights reserved.