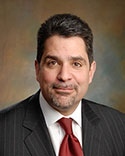 In today's world of direct-to-consumer advertising via the Internet, social media, glossy "Top Docs" magazine features and highway billboards, patients needing specialty medical care are increasingly crossing state borders to obtain what they believe is the "best" care. Accepting a referral from a local primary care doctor to a local specialist is largely in the past. An area of medicine where this occurs more frequently is pre- and post-conception care, which includes gynecological and obstetrical care, as well as genetic counseling and testing.
The mapping of the human genome more than a decade ago has made available testing for thousands of genetic disorders. Specialized treatment and testing can involve clinical indications, including advanced maternal age, a history of familial genetic disorders and elevated risk due to parental ethnicity. Perhaps unsurprisingly, patients in the New Jersey, New York and Pennsylvania metropolitan areas are crossing state lines for this specialized care. However, when an impaired child is born, resulting in a wrongful-life or wrongful-birth medical malpractice lawsuit, and parties are residents of different states and/or the care is rendered by practitioners in different states, both plaintiff and defense counsel should be aware of the often-complex web of jurisdictional, choice-of-law, conflict-of-law and comity issues.
New Jersey, New York and Pennsylvania laws vary greatly in addressing wrongful-birth and wrongful life claims in terms of allowable defenses, scope of recovery and damages. Because it is widely recognized that potential recovery is far greater in New Jersey, this state has emerged as the preferred venue for such cases. Counsel on both sides should understand the complex legal issues that frequently arise and how New Jersey courts have dealt with these issues.
Overview of Wrongful-Birth and Wrongful-Life Litigation
Wrongful-birth and wrongful-life claims represent two distinct causes of action. A wrongful-birth claim is brought by the parents of the child and seeks damages, including emotional distress, for the lost opportunity to avoid conception or terminate a pregnancy. Procanik by Procanik v. Cillo, 97 N.J. 339, 347 (1984). A wrongful-life claim is brought on behalf of the child and claims damages for the birth of the child. Id. Each has its roots in accidental pregnancy and birth of healthy children, but, in the modern era, these causes of action have become the vehicle for seeking damages where testing fails to uncover genetic or other disabilities. See Wendy F. Hensel, "Disabling Impact of Wrongful Birth and Wrongful Life Actions," 40 Harv. C.R.-C.L. L. Rev. 141, 151-153 (2005).
Both wrongful-birth and wrongful-life causes of action continue to generate controversy. See, e.g., Kathy Lohr, "Should Parents Be Able to Sue for 'Wrongful Birth'?" NPR, May 15, 2012. Bio-ethicists, pro-life advocates and advocates for the disabled express concern about any cause of action suggesting that disabled children are less desirable. See, e.g., id. (presenting various viewpoints); Darpana M. Sheth, "Better Off Unborn? An Analysis of Wrongful Birth and Wrongful Life Claims Under the ADA," 73 Tenn. L. Rev. 641 (2006) (arguing that wrongful-birth claims violate societal norms against discrimination and the ADA); Hensel, Disabling Impact, 40 Harv. C.R.-C.L. L. Rev. 141 (same). Advocates contend that banning these actions will result in parents' being denied an avenue of recovery where doctors fail to provide them with all information prior to birth. Courts have struggled particularly with the theoretical underpinnings of wrongful-life suits—that the "infant's cause of action is that its very life is wrongful." Procanik, 97 N.J. at 349 (premising wrongful-life action not on "metaphysical considerations" but on the "needs of the living"); see also, e.g., Berman v. Allan, 80 N.J. 421, 429 (1979) (overturned by Procanik, 97 N.J. at 349).
Society remains divided on the ethical and moral implications of wrongful-birth and wrongful-life causes of action, as reflected in the disparate treatment afforded such claims throughout the country. A majority of states, including New Jersey and New York, recognize wrongful-birth causes of action, with a minority of these states also recognizing a limited form of wrongful-life causes of action. Within this majority group, elements of compensable damages can vary greatly. See 23 Causes of Action 2d 55, §10 (Originally published in 2003). Another group, including Pennsylvania, has proscribed both causes of action either by statute or by decisional law. A third group has yet to address the viability of such claims either by legislative enactment or decisional law.
Wrongful Birth and Wrongful Life in NJ, NY and Pa.
Current laws in New Jersey, New York and Pennsylvania present a cross-section of how these claims are treated in the United States, related to viability and scope of recoverable damages. New Jersey's approach is very liberal, while New York's is more restrictive, and Pennsylvania takes the most restrictive approach. New Jersey allows for both a wrongful-birth cause of action (for costs of past and future medical care damages and parental emotional distress) and a wrongful-life cause of action (albeit on a limited basis), permitting only cost of medical care damages to the child under certain circumstances. Ginsberg ex rel. Ginsberg v. Quest Diagnostics, 441 N.J. Super. 198, 224-25 (App. Div. 2015). New York takes a more restrictive approach by recognizing a cause of action for wrongful birth, but not wrongful life, and more significantly by capping damages for the cost of medical care to the age of majority. Bani-Esraili v. Lerman, 69 N.Y.2d 807, 808 (N.Y. 1987); Becker v. Schwartz, 46 N.Y.2d 401, 414 (N.Y. 1978). Pennsylvania completely proscribes both causes of action by statute. 42 Pa. Stat. and Cons. Stat. Ann. §8305 (West); Sernovitz v. Dershaw, 127 A.3d 783 (Pa. 2015) (upholding the law).
NJ as the Preferred Venue and the Cross-Border Dilemma
New Jersey affords plaintiffs the best venue of these jurisdictions in which to file and potentially recover the maximum level of allowable damages. Jury awards and settlements are usually substantial and yearly represent some of the highest damages awards in medical-malpractice and personal-injury litigation. In the past decade, reported awards and settlements in New Jersey have almost always exceeded $1 million and have often ranged between $2.5 million and $10 million, depending on the strengths or weaknesses of the parties' liability and proximate cause positions; the plaintiff's projected life expectancy for the impaired child and the costs of medical care throughout the period of life expectancy; and the level of emotional distress suffered by the parent(s).
Consequently, plaintiffs in these cross-border cases will often seek to file in New Jersey whenever possible. However, counsel on both sides should be aware that New Jersey courts generally have been reluctant to apply New Jersey law to out-of-state defendants in wrongful-birth cases, given the claims' sensitive and controversial nature. See Ginsberg, 441 N.J. Super. at 242.
In Ginsberg, this presented a dilemma for the Superior Court, which had to apply conflicts-of-law principles to determine whether New York or New Jersey law should apply in a case involving New Jersey residents who, at the time of injury, were New York residents; a New York hospital; several New Jersey health-care providers; and a medical testing company headquartered in New Jersey, but which performed all relevant actions in New York. The Superior Court ruled that New Jersey law should apply to all defendants. Last year, the Appellate Division reversed, for the first time approving the practice of applying the law of different states in the same case, and held that New York law should apply against defendants whose only contact with the plaintiffs occurred in New York, and the law of New Jersey against the medical professionals practicing in New Jersey.
While Ginsberg forecloses the usefulness of stacking the caption with New Jersey contacts or bootstrapping out-of-state defendants, it creates a tangle of intersecting and conflicting legal analyses within the same case. For example, a Pennsylvania defendant sued in an action in New Jersey may be dismissed if the court determines that Pennsylvania law applies to that defendant, regardless of how central that party may be to the plaintiff's claim. Within the same case, any New York and New Jersey defendants will have vastly different potential exposure at the trial level, with a New York defendant facing a more limited level of monetary exposure than a New Jersey defendant. Beyond the question of exposure to damages, additional disparities exist between the laws of the two states, such as statutes of limitations and the law surrounding the date and locus of injury. A jury could be faced with all these differences during one trial. The Ginsberg court expressed confidence that careful jury instructions and detailed verdict sheets will allow a jury to sort it out, but punted on the more complicated question of what happens when various defendants cross-claim.
As New Jersey will likely continue to be the locus of cross-border wrongful-birth and wrongful-life claims, practitioners on both sides of these cases should consider advantageous strategic goals during pretrial discovery, the filing of pretrial motions on choice of law and well-crafted proposed jury instructions. Such planning may affect the ultimate outcome in such cases for both sides, either by way of settlement or at trial.
Reprinted with permission from New Jersey Law Journal, © ALM Media Properties LLC. All rights reserved.