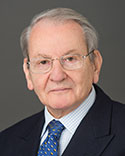 Thomas R. Newman
Two days after the New York Law Journal reported that Justice Sonia "Sotomayor Urges Mandatory Pro Bono for All Lawyers" and her belief that "professional and ethical duties require it" (May 18, 2016), it reported the results of an Altman Weil survey showing that many leaders of large law firms with per partner profits of over $1 million believe "overcapacity is hurting their firm's profitability" and a "drag on profits," and the "most obvious solution to the overcapacity problem is to cut underperformers," with "nonequity partners present[ing] the most obvious target for law firm rightsizing," i.e., downsizing. ("Firms Faulted for Resisting Layoffs," May 20).
These leaders would do well to heed the words of one of our greatest judges, Learned Hand, who said, "while I should be the last to say that the making of a profit was not in itself a pleasure, I hope I should also be one of those to agree there were other pleasures than making a profit." Thacher v. Lowe, 288 Fed. 994, 995 (1922).
They might be surprised to find one of those pleasures in subsidizing much needed pro bono work by their nonequity partners and associates with time on their hands.
Reprinted with permission from New York Law Journal, © ALM Media Properties LLC. All rights reserved.