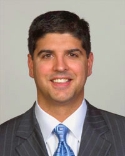 Gut-wrenching, painful, beautiful. These are just a handful of the emotions I felt watching the Cubs eke out a Game 7 win last week to take the World Series. Finally, after 108 years, all the drama, came all the excitement.
I was astounded at the outpouring of support I received from colleagues of mine in other cities. But after all, how could you not root for the Cubs? The curses, the years of agony, the friendly confines of Wrigley Field. It was a dream waiting to happen, and the Cubs won big.
The postseason was riddled with ups and downs, heroic performances and exciting conclusions. This was no cakewalk for the Cubs, which made the drama that much more exciting and excruciating at the same time. I'm exhausted, as I'm sure are all Cubs fans.
But the Cubs' win was clearly more than just a World Series win, an end to the longest drought in history and an end to the curses that loomed over this storied ball club. The Cubs' appearance in the World Series was really one for the underdog, one for all those that have lived their lives with pain, failures and second chances — not to mention 107 missed chances.
The Cubs are lovable and worth rooting for because everyone can relate to them. All those seasons of mediocrity, and all those close chances over the years, allowed Cubs fans to root for the underdog, the lovable losers as they were once called. Why? Because there is a part of the Cubs in each of us, waiting, hoping that we could be something more, something better.
It is a good metaphor for life. No matter how bad your personal life was, the Cubs were always there … still waiting, still hoping to make the team better. Perhaps just like us in our times of darkness and failure. We didn't get down on the Cubs, we maintained that unwavering hope, even through devastating adversity.
That was the universal link that fans across the country appreciated with the Cubs, I think.
I was completely taken aback at Game 3 at Wrigley on October 28. It was exciting to feel the weight of history and what the Series meant to Chicagoans. But most significant for me was not the Cubs baseball team, or Major League Baseball, but the families, the parents, grandparents and great grandparents who were remembered at Wrigley.
I couldn't believe how many people took pictures outside of Wrigley Field that first home game with their loved ones, holding pictures of parents, grandparents, aunts or uncles that had passed away.
I know I did. I'll never forget the expressions on their faces as they held up their deceased family pictures. It wasn't a smile in these Wrigley Field photos, it was a bit of a smirk, filled with sadness and remorsefulness of remembrance, combined with pure excitement, joy and gratification. I realized everyone had a Cubs story. We all felt that our loved ones who passed away were with us in spirit.
One Cubs fan was reported to fly to his father's grave site in Indiana just to listen to Game 7 on the radio with him. Now that's a Cubs family!
My own Cubs story begins with my dad, a diehard sports fan who loved the Cubs. I felt he took gratification in the Cubs because his life was difficult, just like the many Cubs baseball losing seasons. My dad was an immigrant from India, so being part of the Cubs lore with Ernie Banks, or his favorite, Ryne Sandberg, made my Dad and me feel part of something comfortable, something secure: the Cubs.
The Cubs were part of his American Dream; they made him feel like we belonged to something that transcended ethnic divides. I attended many Cubs games growing up with my dad and older brother, oftentimes in bad seats, with cold hot dogs my mom would make us.
My dad always said, "Why pay for hot dogs when we can bring our own?"
Those were my childhood memories of the Cubs, eating hot dogs wrapped in tin foil in the hot summer sun.
So when out-of-towners congratulate me for the Cubs win, I laugh, because I feel they just don't understand Cubs fans. Our fandom runs deep. The World Series win isn't about the Cubs franchise to me, it isn't about bragging rights; it's about redemption for all those years of being the underdog, it's about achieving life dreams and it's about family.
That was what gave me the most pleasure this season. Sure — the Cubs won the World Series, but I was more gratified that the Cubs validated our childhood dreams, our sense of belonging with our families and all those cold hot dogs on warm summer days at Wrigley.
Copyright © 2016 Law Bulletin Publishing Company. All rights reserved. Reprinted with permission from Law Bulletin Publishing Company.