Attorney Reflects on Martin Luther King Jr.'s Influence, Civil Rights Victories
By Dan Clark
April 05, 2019
Corporate Counsel
Longtime civil rights attorney Fred Gray remembered the Rev. Martin Luther King Jr. as a humble man with a sense of humor who would listen to people and not monopolize a conversation.
"He would even listen to and tell some jokes that he couldn't tell at the pulpit," Gray said Friday in the Philadelphia offices of Duane Morris in conversation with the firm's partner and chief diversity and inclusion officer, Joseph K. West.
Gray, 88, shared some of his landmark victories during the civil rights movement as Friday marked 51 years and one day since King was killed in Memphis, Tennessee.
"We have the privilege of having a conversation with someone who has been a hero of mine even before I knew I wanted to be a lawyer," West said. "He is, I think, one of the most consequential lawyers in the history of jurisprudence."
Gray said, for a young black man in the South, only two jobs were available in the 1950s: teacher or preacher. He said initially he wanted to be a preacher and a teacher. After spending years at a boarding school preparing to do both professions, he began to notice the hold that segregation had in Alabama because he took the public buses as many as eight times a day where he and others were mistreated.
"I made a commitment as a teenager that I would finish Alabama State, take the bar exam and destroy everything segregated I could find," Gray said.
His first case, only months after being admitted to the bar, was that of Claudette Colvin, who was arrested in Montgomery, Alabama, for refusing to forfeit her seat for a white rider while on her way to school. Gray said he lost that case and Colvin was put on unsupervised probation, but he kept all of the court documents in order to be prepared for the next similar case.
The next case was when his friend Rosa Parks was arrested for refusing to give up her bus seat to a white rider on Dec. 1, 1955. He said Parks was arrested on a Thursday and the case was slated for the following Monday. While he prepared the case over the weekend, he said activists in the community prepared for the Montgomery bus boycott. A friend knew that the boycott needed a spokesperson, Gray explained, and King became that spokesperson. Gray said up until that time the reverend had not been active in the civil rights movement.
Gray said that, after the boycott, state authorities decided to charge King, who had left Alabama, for perjury in connection with filing a false tax return.
"We had a good team together and was able to get an all-white jury in the middle of the sit-in demonstrations in the spring of 1960 to end up finding that Dr. King was innocent of perjury at that time," Gray said. "I think that was one of the most important cases because he was now protesting the Vietnam War. If it had come out that, while he was leading this new civil rights organization and at the same time he's cheating and wouldn't pay his taxes, it would have been devastating."
West, who was previously the CEO of the Minority Corporate Counsel Association, also brought up that three schools Gray had once sued to desegregate would go on to honor the still-practicing attorney.
"I think that we always need to not close doors," Gray said. "We don't have to do everything at one time, but you continue to be focused on what the goal is, and our goal still was to destroy segregation, but we had to wait a little while in doing it."
Fred Gray (left) responds to a question from Duane Morris Chief Diversity and Inclusion Officer Joseph K. West (right).
Fred Gray shares stories about his landmark victories during the civil rights movement.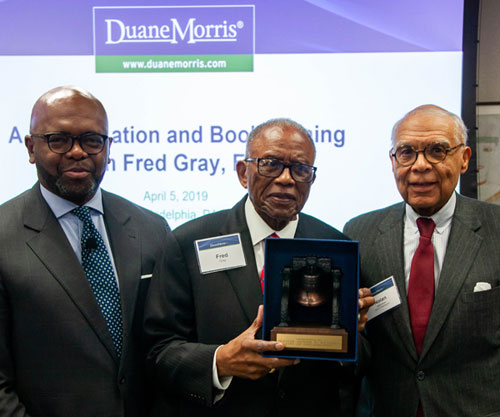 Fred Gray (center) stands with Duane Morris Chief Diversity and Inclusion Officer Joseph K. West (left) and Nolan N. Atkinson, Jr., the City of Philadelphia's first chief diversity and inclusion officer and former Duane Morris chief diversity and inclusion officer.
Reprinted with permission from Corporate Counsel, © ALM Media Properties LLC. All rights reserved.