Black Attys Tell Peers To Back Diversity Talk With Action
By Michele Gorman
July 14, 2020
Law360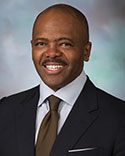 Joseph West
Corporate counsel should cut ties with law firms that don't meet diversity metrics and lend a hand to any struggling minority attorney assigned to company matters to ensure that efforts to make the legal profession more inclusive aren't a fad, a panel of top Black in-house and law firm lawyers said Tuesday.
With the country reeling from the police killing of George Floyd in Minneapolis and the increased awareness of inequities that continue to impact people of color generally and Black Americans in particular, the speakers discussed sustainable strategies that firms and in-house departments can adopt to make the legal profession more equal in the long term.
"Martin Luther King said we're a '10-day nation.' We are a 10-minute nation," said panelist Michele Coleman Mayes, vice president, general counsel and secretary at the New York Public Library. "We have got to do everything we can to fight against it being 10 minutes."
Coleman Mayes and her two co-panelists — John Gaidoo, assistant general counsel at engine company Cummins Inc., and Benjamin Wilson, chairman of law firm Beveridge & Diamond PC — were the three speakers in a Tuesday webinar focused on Black lawyers in America. Joseph West, a partner and chief diversity and inclusion officer at Duane Morris LLP, moderated the event, which was held by videoconference. [...]
The webinar was the second in a three-part series titled "Black Lawyers in America: A National Town Hall Series."
To read the full article, visit the Law360 website (subscription/registration required).