As Corporate America Faces Racial Reckoning, Here's How Experts Say Change Can Be Made
By Catherine Thorbecke
June 17, 2020
ABC News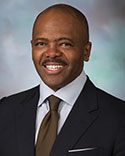 Joseph West
Corporate America is facing a reckoning, reminiscent for some of the #MeToo movement, over renewed allegations of structural racism that emerged in the course of mass protests over the killing of George Floyd.
While predominately-white boards and C-suites have long been the norm in the private sector despite past efforts to make changes, the last few weeks have seen an exit of some corporate leaders over allegations of racism and widespread push to rethink the system that is in place. [...]
"I'm cautiously optimistic that it is a tipping point," said Joseph K. West, a partner and the chief diversity and inclusion officer at the law firm Duane Morris. "The lines have really been blurred between what you see playing out in the streets and what you see playing out in the corridors of power."
Moreover, "those two disparate groups are actually communicating with each other at a policy level in a way that didn't exist before," West said. [...]
Understand and address biases and barriers that quell black talent
"A lot of what people came to understand from the George Floyd murder is the biases that exist out in society that can have a very meaningful impact on people of color, particularly African Americans," West said. "Those same biases play out in the workplace at various junctures at every level."
Biases at work can impact compensation, assignments, recruiting, mentoring, promotions and nearly every other decision in the workplace, according to West.
"There are biases that play out at each of those sorts of critical junctures in the career lifespan, and if you don't get outside assistance ideally to help identify those barriers and come up with strategies to eliminate them, then you may have a problem," West added. [...]
Create a culture of inclusion
According to West, the conversation about inclusion -- making sure diverse voices are heard and valued -- has been lagging in corporate America.
"We've had a lot of conversations about diversity, but not as much about the importance of inclusion and inclusiveness," West said.
"That's important because a lot of organizations over the last couple of decades have done a decent job of recruiting diverse talent, but they tend not to stay," he added. "Retention is an issue because people run into barriers to inclusion, they run into barriers to ascension." [...]
If diversity is good for business, it should be compensated as such
Finally, "if diversity is like any other business metric, then companies should reward" it as such, West said.
West cited an example at a tech firm where the leader "incentivizes his direct reports by withholding a certain percentage of their annual bonus if they don't meet certain diversity and inclusion goals."
"You would be amazed how much that clarifies the mind," he quipped.
"For me when you talk about diversity and inclusion from a corporate standpoint and from the standpoint of the C-suite, the most compelling argument is that, sure, eliminating barriers can be … good for the bottom line," he added. [...]
"If that is the thing that convinces people that diversity in the c-suite is a good thing then so be it," West said. [...]
To read the full article, visit the ABC News website.