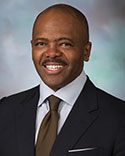 Joseph West
Joseph West, Partner and Head of Diversity and Inclusion (D&I) at Duane Morris, a Philadelphia-based law firm, sought out the law for his career because of the influence of a mentor who at the time was serving as a chief of staff for a U.S. Senator in the late-1980s.
After practicing at firms in Louisiana, West joined Entergy Corp. as Associate General Counsel for Litigation, which allowed him to hone his litigation chops because at the time, Entergy handled all of its litigation in-house. West's exposure to D&I came through Tom Mars, then-General Counsel at Walmart, his next in-house job. According to West, Mars was on the cutting edge of applying the practical principles of D&I into the every-day management of a corporate legal department.
This role prepared West for the job of CEO at the Minority Corporate Counsel Association (MCCA), where he deepened his D&I expertise even more. In addition to a number of accolades over the course of his career, he was recently named the first-ever recipient of the Lifetime Achievement Award for Diversity & Equity by the U.K.-based Chambers and Partners.
Now, at Duane Morris, West is a revenue generator and head of D&I. He seamlessly leverages both areas of expertise to create a unique value proposition for his clients and the firm through its Diversity and Inclusion Advancing Leadership (DIAL) initiative, which is an innovative diversity consulting practice. "It signals a level of seriousness and attention to D&I both internally among my peers at the firm as well as externally among our clients," he explains.
When West started at Duane Morris in 2016, he noticed quickly that there was "a growing need among corporate clients to have access to some practical, hands-on guidance in D&I principles because most corporations then, had nascent-to-nonexistent D&I programs." The DIAL practice helps fulfill that need while also providing clients with the attorney-client privilege protections that most non-attorney consultants cannot provide.
Leveraging D&I for Driving Revenue
Clients served through the DIAL initiative vary from Fortune 10 companies down to educational institutions, non-profits, smaller companies, and other law firms. The services provided include training and strategies to assist in elimination of bias, addressing diverse attrition, creating and implementing long-term diversity strategic plans, and helping organizations establish a cross-enterprise D&I platform. […]
West's Advice on How to Minimize Bias
[…]
In West's experience, recognizing bias and the fact that all humans have it as part of our DNA are the first steps — with the awareness being initiated during implicit bias training.
Next, West partners with the client to understand how bias impacts the client's processes, policies, procedures, and behaviors at each stage of the employee lifecycle within the organization. Once it is understood how bias sneaks into the organization, West works to remove the bias in an ongoing real-time basis by tweaking the necessary policies and procedures. […]
Learning New Tactics to Maximize Internal Impact
[…]
As part of that, the firm will adopt a number of bias-mitigation initiatives such as an objective assignment system for its associates. The goal is to remove affinity bias — also called the "like-me" bias, which is the tendency to get along with others who are like us — from the matter assignment process. "Managing partners and practice group heads at our various offices are held accountable for the extent to which they make sure that all of the people of whom they are in charge have the opportunity to get good quality work," West explains. "By eliminating assignment bias, we help all of our talent, including non-diverse lawyers, have a fair shot at quality work and an even playing field." […]
"My colleagues understand and express their appreciation for what it means to our firm, to our reputation, and to our clients."
To read the full article, visit the Thomson Reuters website.