Duane Morris Partner Beatrice O'Donnell Appointed to Board of Temple University's School of Environmental Design
September 27, 2011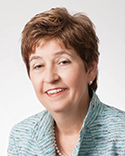 PHILADELPHIA, September 27, 2011—Duane Morris partner Beatrice O'Donnell of the firm's Philadelphia office has been appointed to the board of visitors of Temple University's School of Environmental Design at its Ambler Campus. The board's responsibilities include providing advisory leadership for both the School of Environmental Design and the campus. Members of the board also support fundraising efforts for all campus needs.
O'Donnell focuses her trial practice on mass tort, products liability, commercial and nuclear environmental litigation, as well as healthcare-related litigation. She has tried more than 85 major civil jury trials to verdict in state and federal courts and has handled hundreds of arbitration and mediations. O'Donnell served as coordinating counsel in mass tort litigation for multiple clients in asbestos, pharmaceutical and food supplement cases.
O'Donnell is co-chair of the Mass Torts Committee of the American Bar Association's (ABA) Section of Litigation and is a former executive committee member of the ABA Woman Advocate Committee. In 2009, she was recognized as "Outstanding Subcommittee Chair" for her work with the Woman Advocate Committee. She is a two-term past co-chair of the Pennsylvania Bar Association's Commission on Women in the Profession and a Master in the Temple American Inn of Court. She has served as a member of Duane Morris' Partners Board and currently sits on the board of directors of Muhlenberg College in Pennsylvania.
About Temple University's School of Environmental Design and Ambler Campus
Temple University's School of Environmental Design (SED) is headquartered on the Ambler Campus and comprises three separate programs: Landscape Architecture and Horticulture, Community and Regional Planning, and the Center for Sustainable Communities. The school is housed within the College of Liberal Arts under Dean Teresa Soufas. In addition to the SED classes being taught at Ambler, other Temple University colleges and schools provide coursework for both undergraduate and graduate students.
About Duane Morris
Duane Morris LLP, a full-service law firm with more than 700 attorneys in offices across the United States and around the world, offers innovative solutions to the legal and business challenges presented by today's evolving global markets.