Duane Morris Associate Laurie Goon Recognized as Living Classrooms Rising Star
September 26, 2014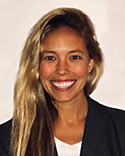 BALTIMORE, September 26, 2014—Duane Morris LLP is pleased to announce that Laurie Goon, an associate in the firm's Baltimore office, was recognized by Living Classrooms Foundation as one of its Rising Stars for 2014, presented by the Baltimore Business Journal. Goon and fellow honorees accepted awards at the nonprofit foundation's annual Maritime Magic benefit on September 19. Partner Rob Hopkins, also in the firm's Baltimore office, serves on the foundation's board of trustees and nominated Goon for the award.
Founded in 1985, Living Classrooms Foundation seeks to strengthen communities and inspire children and young adults through hands-on education and job training, using urban, natural and maritime resources as "living classrooms." Its annual Rising Stars list honors a small group of young professionals, nominated by their peers, based on outstanding professional and personal achievements and philanthropic efforts. Rising Stars participate in various networking opportunities throughout the year and become ambassadors and supporters of Living Classrooms' education and job-training programs. The Baltimore Business Journal featured the winners in its September 12 issue.
Goon practices in the area of litigation with a focus on complex commercial and business litigation, construction litigation, products liability and product compliance. She has experience representing financial institutions in lender liability actions, creditors' rights claims and commercial foreclosures. In addition, Goon has experience advising clients on the regulation of consumer products by the Consumer Product Safety Commission (CPSC), as well as product recalls and reporting obligations under the laws enforced by the CPSC. Goon has also counseled clients on product labeling compliance and the marketing of cosmetics.
Goon is a 2010 magna cum laude graduate of the University of Baltimore School of Law, where she was associate comments editor of the University of Baltimore Law Review, and a magna cum laude graduate of Gettysburg College.
About Duane Morris
Duane Morris LLP, a law firm with more than 700 attorneys in offices across the United States and internationally, is asked by a broad array of clients to provide innovative solutions to today's legal and business challenges.