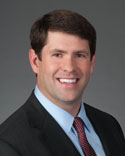 ATLANTA, October 28, 2015—Duane Morris LLP is pleased to announce that Kenneth B. Franklin, an associate in the firm's Atlanta office, received the firm's ninth annual Duane Morris Pro Bono Award. The award honors the outstanding service of an attorney or group of attorneys who exemplifies the firm's commitment to pro bono service and has made a significant impact on an individual or community. Franklin received the award at Duane Morris' annual firm meeting.
"Kenneth is one of a handful of volunteer attorneys willing to tackle the tough clients, not just the tough cases," said Martin Ellin, executive director of the Atlanta Volunteer Lawyers Foundation. "Women who are torn about their choices to leave a dangerous home, afraid to face their abusers in court, angry, despondent or confused; the elderly; the mentally challenged—in sum, the clients perhaps most in need of legal representation—Kenneth Franklin will not just represent, but truly serve. His capacity for kindness and patience for listening to and understanding a complex story with complex emotions make him a true counselor to his clients."
Franklin was honored for his representation of more than 30 abused and neglected women and children whose lives were threatened by their partners over the past three years. As a result of his advocacy, he secured additional pro bono representation for survivors in subsequent civil legal matters. Leading the firm's efforts through the Atlanta Volunteer Lawyers Foundation's Safe Families Office / Domestic Violence program, Franklin not only provided valuable aid, but also encouraged and supported many other attorneys in the Atlanta community—thereby positively impacting the lives of significantly more survivors. As part of the award, Franklin selected Atlanta Volunteer Lawyers Foundation as the organization to which the firm will donate $5,000 in recognition of his efforts.
Franklin practices in the area of complex commercial litigation. He has helped clients successfully resolve issues dealing with a wide variety of subject matter, including construction law, securities litigation, media law, financial services and insurance. Atlanta Magazine has named him a Georgia Super Lawyer Rising Star from 2010 through 2015. Franklin is very active in the Atlanta pro bono community. In addition to volunteering his time to handle cases for victims of domestic violence, he is a member of the Atlanta Volunteer Lawyers Foundation's Junior Board and received the organization's Domestic Violence Project Volunteer of the Year Award in 2014.
Franklin is a cum laude graduate of the University of Georgia School of Law, where he was executive editor of the Journal of Intellectual Property Law, and a cum laude graduate of Davidson College, where he was a member of the varsity football team.
About the Duane Morris Pro Bono Program
Duane Morris' Pro Bono Program provides free legal services to those in our communities least able to afford them. The importance of pro bono work and volunteerism has been an integral part of Duane Morris' culture since the firm's inception more than 100 years ago.
About Duane Morris
Duane Morris LLP, a law firm with more than 700 attorneys in offices across the United States and internationally, is asked by a broad array of clients to provide innovative solutions to today's legal and business challenges.