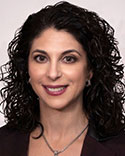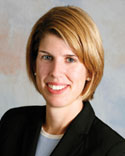 PHILADELPHIA and SAN FRANCISCO, November 2, 2017—The Duane Morris Women's Impact Network for Success honored two attorneys for their efforts to advance women in the legal profession. Caroline M. Austin, a partner in the firm's Philadelphia office, received the Cheryl Bryson Leadership Award. Meagen E. Leary, a partner in the firm's San Francisco office, received the Margery Reed Professional Excellence Award. Austin and Leary received the awards at a ceremony at Duane Morris' annual firm-wide meeting on October 27.
The Cheryl Bryson Leadership Award recognizes significant contributions, including professional development, leadership and mentoring, made by a lawyer to women in the legal profession. The award is named in honor of the late Cheryl Blackwell Bryson, a Duane Morris partner in Chicago who died in January 2012 after a long battle with cancer. Bryson was a leader in many significant civic and community causes, and she was repeatedly honored throughout her career as a major pioneer, both as a female lawyer and as a lawyer of color. Likewise, the late Margery Reed spent her entire professional career as an attorney at Duane Morris, including 24 years as a partner of the firm. As demonstrated by her numerous awards, including her admission as a Fellow in the prestigious American College of Bankruptcy, Reed was repeatedly recognized as one of the best commercial bankruptcy lawyers in the country. Clients had the utmost confidence in her because of her impressive depth of knowledge, meticulous preparation, calm and focused approach, and long-standing track record of exemplary results. Reed was also universally respected by her adversaries as a zealous yet reasonable and civil advocate. Colleagues revered her because she routinely built consensus through her thoughtful way of seeking and incorporating input from the most junior to the most senior team members. A consummate partner, Reed was incomparably selfless in giving of her time and talents to assist her colleagues and mentor junior lawyers. She was a true professional in every sense, and her unwavering commitment to her clients and colleagues, the firm and the profession of law is the reason this award for professional excellence is given in her name.
Austin was chosen for her hands-on mentoring of associates. She makes a point to involve associates in matters from the start in order to enhance their skills and experience and elevate their competence, professionalism and success. Austin is also an advocate for work-life balance. She regularly consults with female colleagues on both legal career challenges and family issues to support them both professionally and personally.
Austin concentrates her practice in employment litigation, employment policy development, preventative counseling and training designed to avoid litigation, unionization and employee attrition. Appearing before federal and state courts and administrative agencies, she represents clients in connection with a broad range of labor and employment matters, including age, race, gender, national origin and disability discrimination, sexual and racial harassment, restrictive covenants, breach of contract, and wage-and-hour laws.
Austin is a 1994 graduate of Temple University Beasley School of Law, where she was associate research editor of the Temple Law Review, and a graduate of Lehigh University.
Leary was chosen for her ability to establish and nurture client relationships. She brings an ease and professionalism to her client development activities, rooted in her many outside interests. In this regard, Leary is able to naturally connect to each client directly, providing clients with exceptional legal talent, as well as an interesting and fun lawyer-client relationship.
Leary maintains a national creditors' rights, real estate and bankruptcy law practice. She handles commercial loan enforcement and workouts, bankruptcies, condemnation proceedings, lender liability claims and other related litigation for her financial institution and commercial real estate clients. Leary handles all aspects of real estate acquisitions, dispositions and commercial loan transactions. In addition, she provides oversight and general counsel services to several national clients.
Leary is a 2004 cum laude graduate of Tulane University Law School, where she was a member of the Tulane Maritime Law Journal, and a graduate of the University of California, Los Angeles.
About the Duane Morris Women's Impact Network for Success
The Duane Morris Women's Impact Network for Success is devoted to the success of our women attorneys. Through various programs, we exchange ideas, foster and expand business contacts and opportunities, and enhance attorney development to fully realize the talent, knowledge and potential of our women attorneys.
About Duane Morris
Duane Morris LLP provides innovative solutions to today's multifaceted legal and business challenges through the collegial and collaborative culture of its more than 750 attorneys in offices across the United States and internationally. The firm represents a broad array of clients, spanning all major practices and industries.